Our friends Jess and Charles are getting married in early October. Jess went to school with my boys and practically saw Jamie grow up. And she and Charles pretty much were Jamie's home away from home last year while she was off on her exchange. There is much affection between us.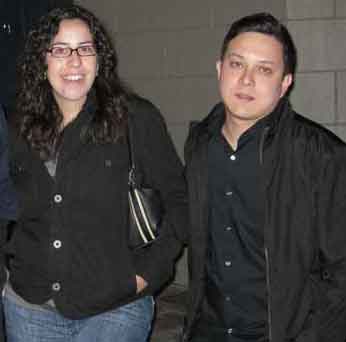 I asked them if I could make them a wedding quilt, and was delighted when they accepted. Jess told me she would love something in autumn colors. So I played around with traditional wedding designs: Lover's Knot, True Lover's Knot, Bridal Path, Steps to the Altar…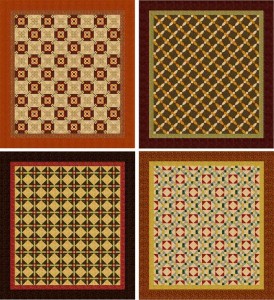 I also discovered there are quite a number of traditional Wedding Ring blocks, beyond the well known Double Wedding Ring. Go figure.
In the end, however, this is a young, modern couple. And as such, their preference is for something much more simple. They are making it very easy for me. I proposed the same pattern used for both Jamie's and my own quilts.
So this is the pattern they have chosen. This is such an easy quilt to make, I thought maybe you would like to quilt along with me. This is my EQ drawing for Jess and Charles' quilt, which will measure 90 x 110."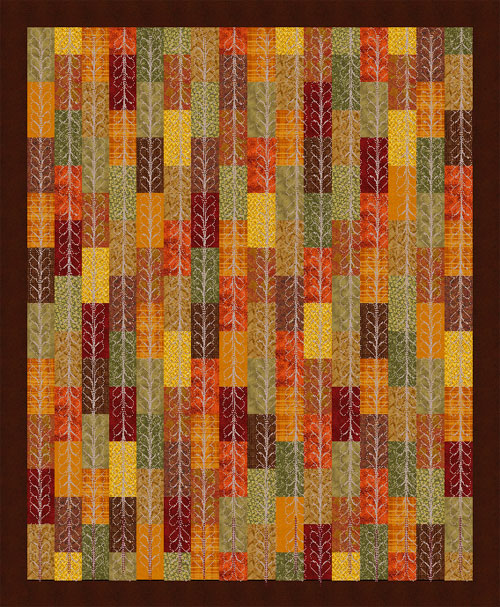 I'm still not sure about what quilting design I will use, but will include several for you to choose from, ok?
HOW THIS WILL WORK:
Over the next couple of weeks, I will post my own progress on this quilt. I will share step-by-step photos, and give suggestions along the way for variations. This will include yardage selection, cutting, piecing, sandwiching, quilting… all the way down to the binding and label.
I will include yardage requirements and cutting instructions for two alternate sizes (standard twin and double). However, if you need help with another size, just leave a comment on this or the next post, and I will try to accommodate.
This is a great quilt for beginners. And because of the simple design, it also poses a good opportunity to practice different quilting designs, from very simple to advanced. So this is also a chance for more experienced quilters to showcase their quilting skills. I sure hope you join in!
Next: Yardage Requirements