IMPORTANT NOTICE: I have prepared a pdf file for you with the fabric requirements and number of rectangles and squares you need to cut (best to right-click on that link, and save to your computer). I found a couple of errors in my yardage calculations from the previous post. Nothing major – I just over calculated in a couple of instances. Not that anybody would be terribly upset about having extra fabric, what? Also, for the lap sized quilt I made a mistake: you need 45 rectangles, not 90.
OK, HERE WE GO!
A quick recap. Check below the size of the quilt you will be making for the number of rectangles and squares you will be cutting. In all cases  we will be cutting rectangles measuring 5.5 x 10.5 inches and squares measuring 5.5 x 5.5 inches.

Custom Queen (Finished size: 90 x 110″): 152 rectangles and 16 squares.
Full Size (Finished size: 85 x 100″): 128 rectangles  and 14 squares.
Twin (Finished size: 75 x 100″):  111 rectangles and 12 squares.
Lap (Finished size: 60 x 60″): 45 rectangles and 10 squares .
Crib (Finished size: 40 x 50″): 21 rectangles and 6 squares.
CUTTING THE RECTANGLES AND SQUARES:
Cut your fabrics in strips measuring 5.5 inches x the width of your fabric (should be 44 – 45″ wide). You should be able to get 4 rectangles out of each strip.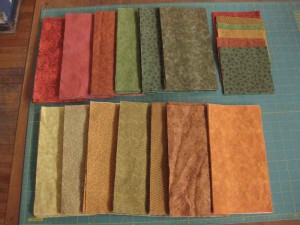 Depending on the size of the quilt you will be working on, the number of  rectangles you need to cut from each fabric will vary (please refer to the pdf file for the number to cut for each quilt). In some cases, you will only be cutting one, two, or three rectangles from a strip. Use the remaining piece from any cut strips to cut your squares.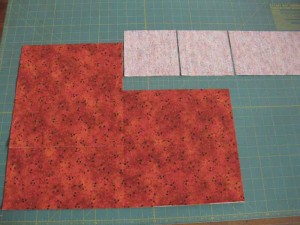 Once you have cut all your rectangles and squares, stack them up nicely next to your sewing machine, as we are now READY TO SEW! Will be back with that in a couple of days.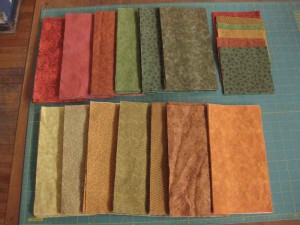 (best to right-click and save to your computer)
Back to: Yardage Requirements
Next: New PDF link