Once you have finished your borders (and after giving your quilt top a last pressing), you will be ready to sandwich your quilt and begin the quilting process. However, before doing so you do need to decide what type of quilting you will do, and if you will mark your top or not.
This is a personal choice, and will depend on whether you choose to hand or machine quilt. If you hand quilt, you probably will want to mark your quilt first (unless you are doing some kind of cross-hatching where you mark as you go along). If you machine quilt, you also will need to decide how you will go about this, and if you will mark your quilt before hand, mark as you go along, or free motion quilt your own design without a stencil.
I am planning on using several designs on my quilt. I will mark my quilt as I go along, and will be using Press 'n Seal to do so. For my tutorial on using PnS, please click here.
Regardless of what you choose, I am sharing five different quilting designs for you to use. You can choose to use one, or mix and match, if you like. They have been drawn to fit the 5 x 10″ repeat for any of the quilt sizes given for the Rectangle Fun quilt design.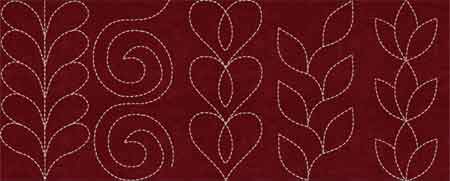 If you decide to mark your quilt top before quilting, you should proceed to do so now. In the next step I will share how I sandwich my quilt, dividing the batting to reduce the bulk.
Pdf File with Quilting Stencils: rectangle_stencils or download from Google Docs: rectangle_stencils
Back to: Adding the Borders
Next: Whole or Pieced Back?