After I posted a couple of pics on the progress with my wedding quilt, a couple of questions came up that I would like to address here. Diane asked: "Are you quilting free-motion on a regular home sewing machine? Are you marking your designs? If so, what are you using to mark them?" Let's break it down by parts.
1.Marking designs… in this case, yes, I have marked the designs on the vertical strips before quilting. I used some of the designs I prepared for this quilt-along. (You will find the pdf file here.) I transfer each design to a piece of Press 'n Seal (and a stencil cutter to pierce it), and use a pounce pad to transfer the design onto the quilt.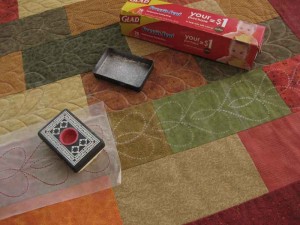 On a large quilt like this one, I do use a pencil to trace over the design again. Otherwise, the simple handling of the quilt often erases the markings. On a smaller quilt, this wouldn't be necessary. My favorite pencils are General's Pastel Chalk (white) for dark fabrics, and Sketch 'n Wash (black) for light fabrics.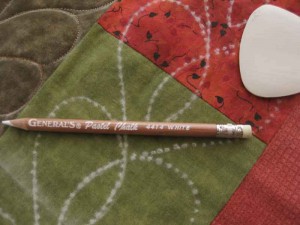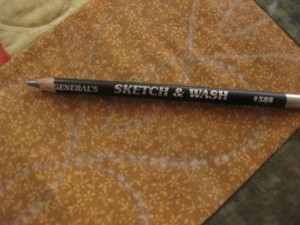 Please visit my website for the full tutorial on Marking Quilting Designs with PnS.
This with regard to quilting the vertical strips. For the borders, however, I decided to wing it. In this case, I do find it is helpful to do some doodling on scratch paper first. This becomes a practice run for the actual quilting. I think it is good motor practice, as it prepares both my brain and muscles for the direction of the movements needed to quilt the design.
And then… I just go for it1 (: As in everything else, practice makes perfect. And although I am far from it, I can see improvement with every new project.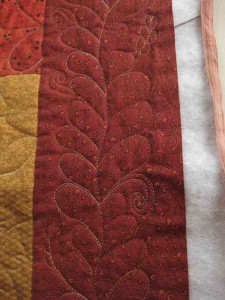 2. Does the type of sewing machine you use make a difference?  I know that there are A LOT of quilters out there that do beautiful FMQ on regular domestic sewing machines. However… I have also noticed that often these "regular" sewing machines also happen to be top of the line machines manufactured specifically with quilting in mind. I actually blogged about this back in August, with examples of my own sewing machines (all domestic) and the pros and cons of each one of them.
Since then, my boy Charlie came into my life to assist me with my free motion quilting (he has been adapted specifically for this purpose). I played around with a couple samples first, and then jumped right in with this wedding quilt. So, to answer your question, Diane, I am quilting on an industrial sewing machine. Because it is a heavy machine, set on a heavy table, it cannot be moved easily, and the only space I had available to place it does not allow me to set up another table to one side to help hold the weight of the quilt. I found, however, that my ironing table fit does the trick.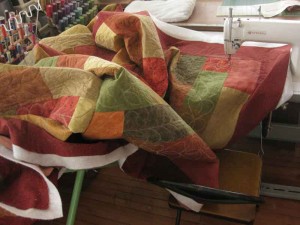 And I am also using a Supreme Slider on this machine. As to feet, they do not manufacture specific ones for FMQ when it comes to industrial machines, so we've been trying things out with a zipper foot. Since we now know it works, the next step will be to cut it for better visibility.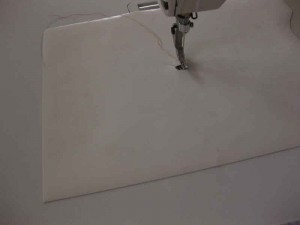 Does it make a difference? Oh, my… YES! I have FMQ other large quilts on my little Brother sewing machine, and it has worked… with a struggle, because of the size of the quilt. Even after dividing the batting into thirds, there is quite a bulk to put through and very little space to work with. On the industrial sewing machine, on the other hand, I have almost 11 inches of throat space. I can now quilt with both hands on the quilt (and find that in this case I do prefer using rubber gloves), which give me better control of the motion. Look at the difference between Charlie and the Brother sewing machine I have been using until now.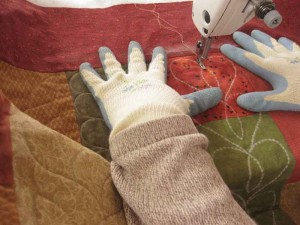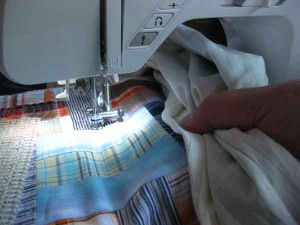 Hope this information contributes a little more to the discussion on FMQ!
Back to: Machine Quilting
Next: Binding