We have finally reached the end of our fun quilt-along together. But before putting away all the bits and pieces left over from this project, there is still one last task left to complete.
After all the hard labor, it is really important to document your quilt. And this is how I (normally) do it…
1. I print off one blank sheet with only the name of the quilt on it. And then on photo paper, I print a collage of photos of the quilt. I try to include a full shot, a close-up of the quilting, and close-ups of the label, plus any other shot that seems interesting to me.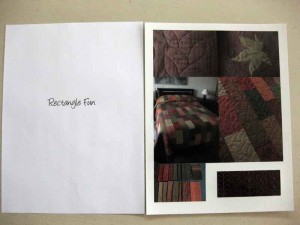 2. I then print my journal "form." This is a pdf file that I am able to fill in in Adobe Reader with the Typewriter Tool. The first sheet contains all the "technical information" on the quilt, and the second sheet is for documenting details of the label, including the hidden label. There are two little rectangles on this sheet to help me register where I placed the label(s) and the inscriptions. (See the end of these instructions for a pdf file of this form)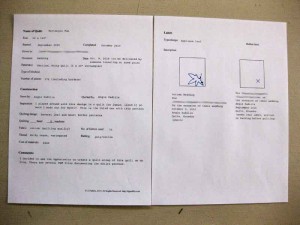 3. These two sheets make up the "entry" for my quilt, which I then place in two sheet protectors and then keep in three-ring binders. (I now have three!)
4. On occasion I include more photo pages. Since I design with Electric Quilt software, I often print off a color page of the quilt to keep on hand while I sew. In these cases, I include this page in my quilt journal. The same occurs when I have designed the label in EQ.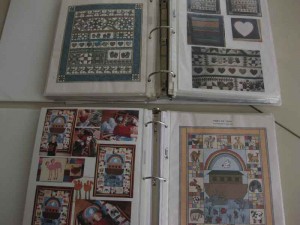 5. I keep at least the four pages indicated in points 1 and 2. And then sometimes I just keep going and going. Particularly with those really "special" quilts.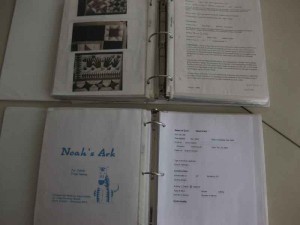 Now that I have documented my quilt, I am ready to share the final photo, of the quilt laid out on a bed!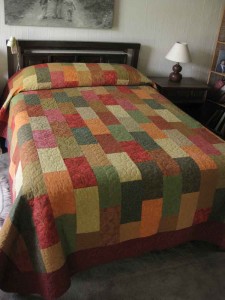 I hope you have enjoyed this project and sewing with me as much as I have! Don't forget… we'd love to see your quilts, so please post your photos to our Flickr pool!
Download links for the quilt journal form:
rectangle_journal or download from Google docs: rectangle_journal.pdf
Back to: the Quilt Label