A couple of months ago our friend Geta was making fabric yo-yos, wishing she could own all the commercial yo-yo makers out there to be able to make all different sizes and shapes. That got me to thinking…These yo-yo makers are made by Clover, and there are 15 different ones. If you were to purchase them all, you would probably be forking out around US$70. Too rich for my taste. Plus, you would still be limited in size.
I love making and using fabric yo-yos. So much so, I have figured out how to make different shapes and even made a series of tutorials on the subject. Even so, a while ago I did purchase several of these commercial yo-yo makers, to see if they really helped speed up the process and make perfect yo-yos. So far, I have mixed feelings about them.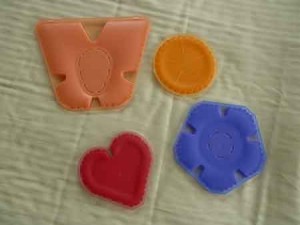 Below there are three round yo-yos. One was made with the commercial yo-yo maker; the other two were made following the conventional method. Can you tell the difference? (The one on the left was made using the commercial maker.)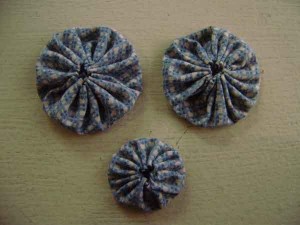 Quite honestly, I don't think I would invest in the other sizes. But I do understand that for some people using a maker might be easier (and faster?)  to use a maker, to achieve even stitches. And then I had an aha! moment. We could make our own… and in any size we like! Hence, a tutorial on how to create your own yo-yo makers. So far, I have figured out how to do this for round and oval yo-yos. Check it out!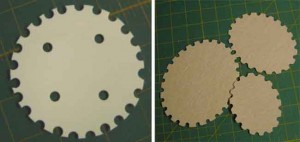 As to the other shapes, in all honesty, making the butterfly has been a pain. I have tried several times, but have never been satisfied with the results. The heart and flower are another story, and I can see how the maker really does help.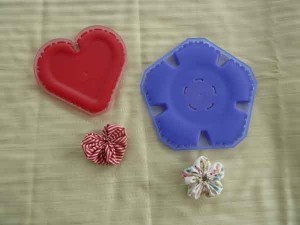 So now I'm off to figure out how to make our own heart and flower shaped yo-yo makers! (I see there is a new shamrock shape out, but I really don't see much of a difference between that and the flower shape!)