The Lutheran church I attend here in Quito is celebrating it's 50th anniversary this year (in Dec. 2008). In preparing for this celebration, we have decided we need to spruce up the building a bit, and have prepared several fund-raising activities. I was asked to come up with some idea for a "bank" to hold pledges specifically for this fund.
So I thought, why not a church? Even better, why not *our* church? This is what it looks like… sober, simple lines: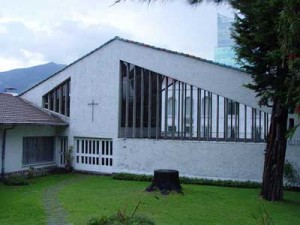 And here's the "church bank" I made, inspired by the photo..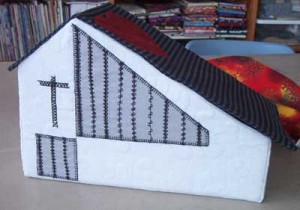 The slot is in the middle of the red heart (on the roof). The heart itself is an invitation to give not out of obligation, but from the heart. I think it looks cute, for only a couple of hours put into it!