I've finished my little Hawaiian quilt (only 15 inches). I decided to go with a very simple version of the traditional breadfruit design. I had to know if I enjoyed the technique before committing to something larger.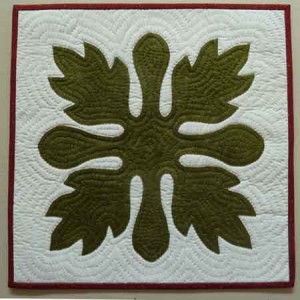 It has been nice doing hand work for a change. For a larger piece, however, I think I would prefer working with a more contemporary design, adding at least one more fabric. It might just be me, but working with only one fabric might get a little boring for me. And I don't know how much echo quilting I'd be willing to commit to. But I am willing to consider a more elaborate design. 🙂
Now it's back to UFOs for me.