I LOVE Applique. I love to design applique, and I love to sew applique. And, until lately, pretty much everything I sewed was by hand – freezer paper applique was my favorite.
That is, until sometime last year, when I decided I really needed to start sewing some of my applique projects on the sewing machine, or I would never get done. Wasn't sure I liked it that much, but was happy with how projects photographed. And then I discovered machine embroidery applique. That is, combining stitches to both sew pieces down and to embellish.
Case in point: this is a block I've just finished.  It's a sample for a machine applique class. All that was really required was a machine stitched block, but I decided to take it a little further…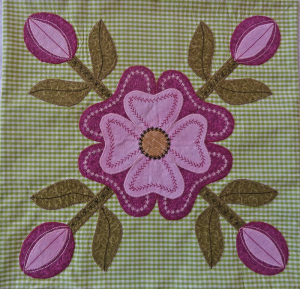 It's such  a traditional block… the Rose of Sharon. But look at how elegant it becomes by just adding a few decorative embroidery stitches. I'm in love!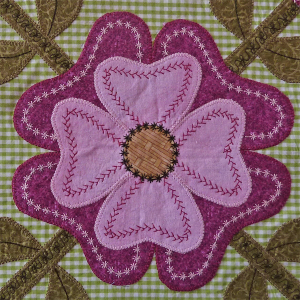 Playing, when I should be working. This makes me happy! 🙂