In doing some housekeeping over at Angie's Bits 'n Pieces I found some book reviews we decided to remove from the website a while back. Since they deal with some of my favorite books, I thought I would share them here. I hope you find them useful. 🙂 Here goes the first.
***************************************************
Although an old and traditional piecing method, by the number of blogs out there covering this subject, one can easily see English Paper Piecing seems to have become a real hit lately.
The EPP bug bit me, too, several years ago. And although I have explored different shapes and designs and love to combine them, I have to admit the hexagon continues to be an all-time favorite. Therefore the only two EPP books in my quilting library have to do with hexagons.
Learn English Paper Piecing by Machine, by Julie Higgins, will certainly be of interest for those who love the look of hexagon quilts but would rather sew by machine. She uses freezer paper shapes, but instead of basting the edges she prefers to glue them down. After sewing she uses a damp towel to loosen the paper from the fabric. Intrigued, I did a little testing of my own and came to the following conclusions:
1. I don't see that using glue saves any time over basting, and I'd rather not deal with the mess or the damp blocks.
2. Joining the hexagons by machine undoubtedly speeds things up and I think I will most probably use this method if I decide to make a large, bed-size quilt. The down side is no matter how careful, you will be catching the edges of the paper, which will make your paper shapes unusable a second or third time. In addition, you will see the stitches on the front. This is not very noticeable at a distance. If you look at the two blocks below, you will probably not be able to tell which one was hand-stitched and which one was sewn on the machine:
On close inspection, however, the difference is clear (to the left the machine-stitched unit, to the right the hand sewn one):
Initially I thought this was my problem, and that with practice I would probably get better results. Upon close inspection of the close-up pictures in the book, however, I realized this is actually what the machine stitched blocks will look like: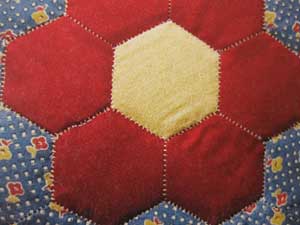 3. The book includes 9 projects. With the exception of two, the others are on the "traditional" side. And charming at that. Instructions are given for making 3-D flowers, and for tumbling block and 60-degree star construction.
4. Unfortunately, this book is out of print. Luckily, you can still find it used, at an even better price! Do I think it's worth it? Certainly! Use the ideas that work for you, and adapt or discard what does not.
************************************
If you look at the product description for Quilts from Grandmother's Garden by Jaynette Huff, you will find that "a little handwork—and a few quick tricks—is all it takes to create these striking quilts… (where) instead of sewing together thousands of tiny hexagons, make appliqué units instead!" You will be told that the use of pre-cut papers will make the sewing easier and you will be encouraged by the portability of this technique.
I decided to purchase this book based on the quilt of the front cover. What the product description does not tell you is that this quilt, finished, only measures 19.75 x 21.75″. And yes, that includes the borders. (This is actually the only quilt I have sewn from this book. You can see my finished quilt here.)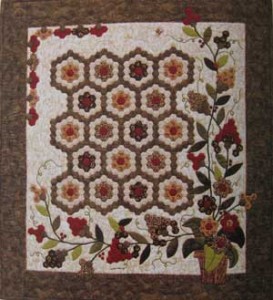 The instructions for the 10 projects included in this book are based on 1/4″ hexagons. As I looked at the size on paper, I couldn't help but think this is crazy! So I sewed a sample flower. Check it out… yes, this little flower measures 1.25″!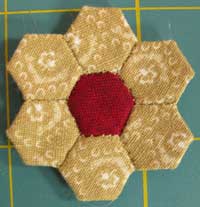 Conclusions:
1. I'm hooked! A word of warning: this is not for everyone. The projects are definitely miniatures and working with this size hexagons might be frustrating for some. The good news is that if you don't want to challenge yourself that much, you can easily make all of the projects in this book using larger hexagons. You will have to adapt the yardage calculations; otherwise, the instructions apply to any size hexagon used.
2. The quilt on the front cover is the largest and most involved one. There are nine other projects – each one lovelier than the next. Although based on hexagons, these are non-traditional quilts – and you will love the ideas scattered throughout the book for using hexagon flower units in different ways (accent pieces?). You will certainly be stimulated to adapt and create your own designs.
3. If, like me, you are an appliqué and EPP lover, you will be delighted by this combination. I think the product description is a little misleading, because the projects are based on EPP units joined together to form the final design, which is then appliquéd. Since I love both these techniques, this is definitely up my alley.
4. I think I just found my new favorite book!
************************************
Both books can be purchased by clicking on the boxes below: