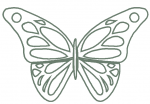 Every January we offer a couple of member-only and one free block-of-the-month project. And a free Christmas BOM starting in July. We post the dates in which blocks are published on each BOM page, and send out a newsletter with reminders. In December we actually send out 3 reminders for visitors to download the blocks by December 28, at which time we take the projects down as we prepare to post the new BOMs come January 1st.
Invariably, on December 31 I receive a flood of mail complaining about having come in to download the last blocks and not finding them there anymore. The most disturbing part is the messages from irate fellow quilters who basically tell me off for the inconvenience. I am told the reasons why they haven't been able to come in on time and download the projects they were interested in. Many times it has been due to personal illness or that of a loved one. Or because they have been traveling. Or have been so busy they forgot. Or… you get the picture.
At first this type of message would really upset me. I would talk out loud to myself (and mentally to the person in question), going over everything I had done to make sure visitors were informed about dates and had plenty of time to access the projects. With time I realized all I could do was what I actually do, knowing there will always be someone who will be unhappy about the way I carry out my business, and who will make sure to convey their opinion.
I do listen. And I cannot please everyone. This year, for the first time, I chose not to respond to most of these messages. Still… I felt sad reading them. Sad because these are fellow quilters who, perhaps because of the anonymity of the Internet, do not seem to consider me as a person. I've come to the conclusion that for someone to be rude or angry towards me, they must be going through something very challenging or painful in their lives. So I choose not to feel angry, and try to find compassion in my own heart for someone I don't know personally, but who I think would need better treatment from me than what they have actually afforded me.
It is the beginning of a new year. It is a time when I think many of us make resolutions to improve one thing or another in our lives throughout the coming year. I personally like to choose a word or inspirational phrase to carry with me through the year. And I have decided on something I want for myself this year, that has actually already been a mantra for me in the past. As part of that desire, I am bringing back a project I would like to offer to you all throughout this year. We could all do with a little kindness… both giving and receiving.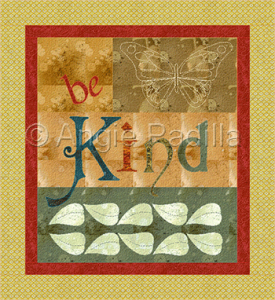 P.S. It would be very remiss of me not to point out the loving messages I have received from many of you, too. Your encouragement and support keep me going and positive in my own creative process. I doubt many people understand the ups and downs, the problems and challenges of being an independent designer. I am grateful for the support and encouragement you have shown me over the years. From the bottom of my heart… thank you.