A while back I posted a couple of recipes using my favorite grain/cereal:  quinoa. Our friend Irene (who lives in Guatemala) went looking and was able to find quinoa at  a local supermarket. Unfortunately, the price was also pretty steep, so she decided to go home without it.
After I posted the second quinoa recipe, I guess Irene just couldn't stand it and decided to splurge. She bought the quinoa, and tried out my recipe for Crustless Asparagus Quinoa Quiche.  She has sent us some photos and  writes that she now understands why quinoa is so costly in Guatemala. The particular brand she purchased is harvested in Bolivia, then sent to the USA to be packed and redistributed. I, in turn, also investigated and found that quinoa only grows in a cold climate environment like the Andes mountains. So I can't even offer to send some seed!
In any case, Irene's baking seems to have been a hit with her family. She made a large one (8 servings) for the family…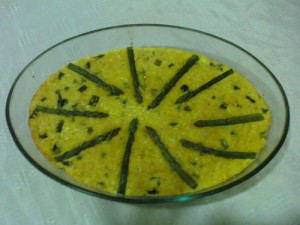 … and a smaller, individual sized one for her husband's lunch at work.
Way to go, Irene!