I must say, it really is fun watching my friends' progress as they work on a project together. Every week brings surprises, and I am always in awe of their magnificent appliqué skills. Today has been no exception. Just check these hooting owls!
Our speedy Susy is moving along with her owls. She started by appliquéing the bodies of almost all of them and is now working on the eyes. Here are the two she finished this week… check out those lashes on the second one! To die for…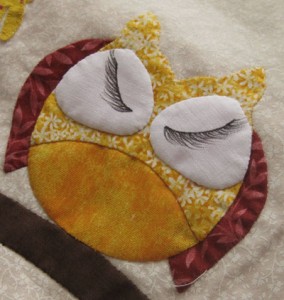 And then she completed this little cutie today: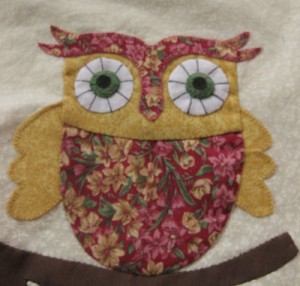 This time Luchita is working with earth tones. Here's the cute little pair she finished this week: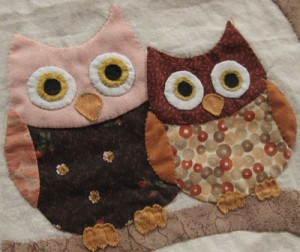 And the owl she was working on this morning: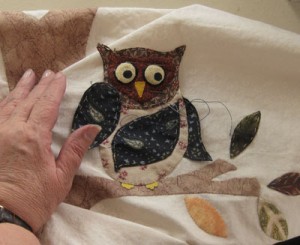 And then Bachita is the perfectionist of the group. Well, they all are, but she takes the prize. One of the things she does is try to match her fabrics as close as possible to the original design. And you have to consider that the fabrics I use in my designs are just not available here, so her choices are very interesting. Check out the owl she was working on today, and compare it to the drawing.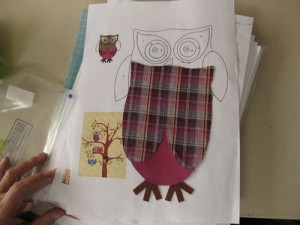 The other thing about Bachita is that she uses incredibly tiny stitches. Her work is amazingly delicate. Isn't this fella looking good?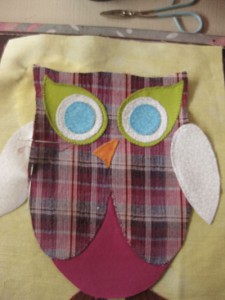 Me? Sorry to say, I am still the oddball and rebel of the bunch. What I do on Thursdays has nothing to do with owls. But I do appliqué. Still working here on my Heavenly Angels project. At only one or two blocks per week (I only work on them on Thursdays!), it's going to be another year before I finish this quilt! Oh, well…