This post is part of the Bloggers Quilt Festival, sponsored by Amy's Creative Side. Click on the image to the left to see the other participating blogs.
I took up quilting as a "serious" hobby in 1995, and since then have made many, many quilts. So many, I've lost count. As I work on a quilt, it becomes my favorite one at that moment. Yet if I take a step back to look at my entire body of work, there is no doubt as to which is my most treasured quilt.
I am lucky in that my entire family appreciates and supports my quilting. They have therefore been the recipients of many of my quilts. Of them, my brother David was who "got me" the most – though he did not quilt himself, he was always intrigued by the process, and treasured every quilt I made him. We were close. So very close.
Losing David to CML (leukemia) in November 2005 was devastating. A month later our mother was hospitalized and near death, and her recovery back to health would take several surgeries and nearly a year's time. During those month, this quilt became my sanctuary… the place where I could retreat to – to mourn and celebrate my brother's life, and to hold and watch over my mother.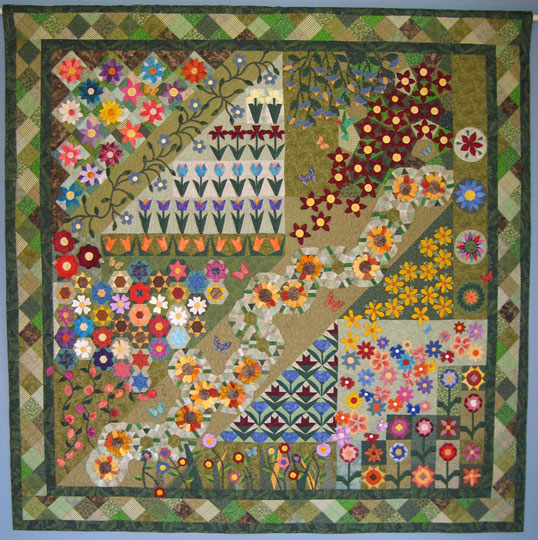 Although I found it hard to part with this quilt, even temporarily, my family encouraged me to enter it into the Do you EQ? contest (sponsored by the Electric Quilt Company and Quilters' Newsletter Magazine). And I guess they were right, because it was honored with a second place prize in the Single Maker Category. For the contest I had to submit the design itself in a project file, in addition to several photographs. After it was selected for the final judging, it traveled to the U.S. and was exhibited first in Colorado, and later at Fall Quilt Market that year, as part of a special exhibit.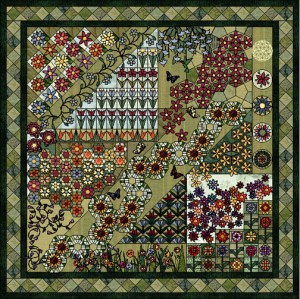 This quilt is entirely handmade (piecing, appliqué, dimensional flowers and hand quilting). The finished quilt measures 71 x 71″. I used EQ5 software to design it, as it allowed me flexibility to play around with asymmetry, allowing for a lot of movement in the final design. For a long time I had wanted to experiment with dimensional techniques and I was finally able to apply them here.
David's gardening style (he was an agronomist) was somewhat unusual in that he wasn't adverse to and, in fact, loved weeds mixed among his flowers. Much in the same way as we quilters do not believe there is such a thing as "ugly fabrics," he, too, did not believe there is such a thing as "bad or ugly plants." For him, each plant fulfills a purpose and even weeds are there to provide some kind of service. So I decided to let my quilting needle meander throughout the quilt in whatever direction it chose, symbolizing the odd way in which weeds pop up in a garden here and there.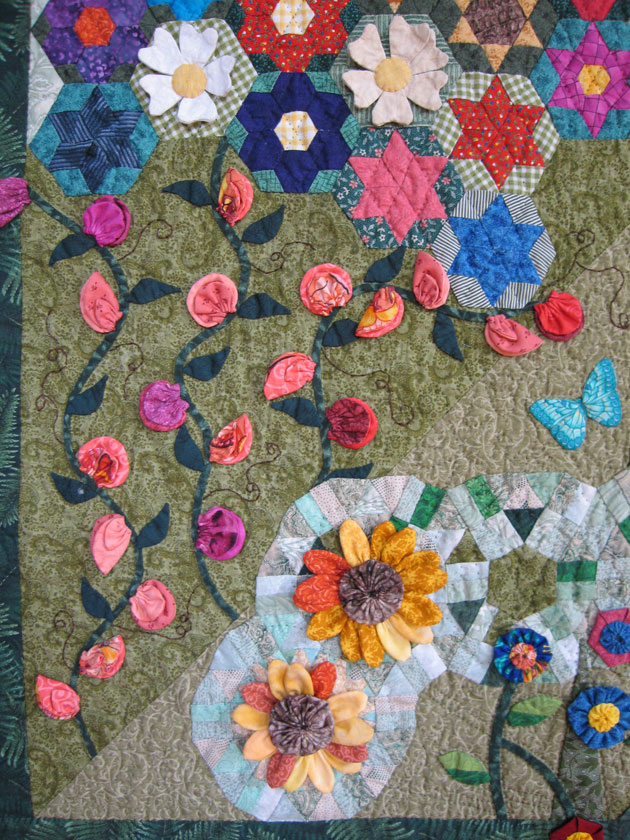 Traditional piecing and contemporary dimensional flowers are combined throughout the entire quilt. The quilt is made up of small "blocks", most of them measuring 3″. The base blocks for the sunflowers are the largest blocks in the quilt, measuring 6″. The flower circles next to them measure 5″ and all other flower "blocks" measure 3 to 3.5″.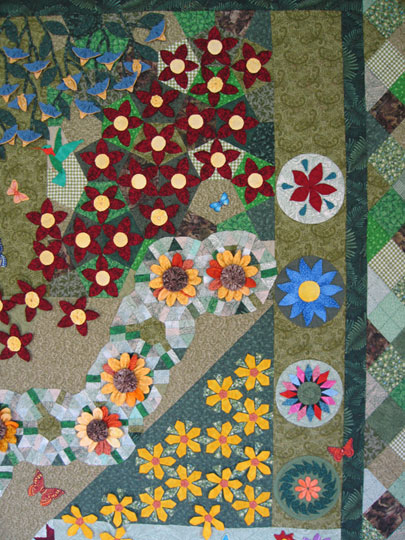 This hummingbird is not apparent right away and it's fun to see people's reaction when they finally stumble upon him! All the dimensional flowers were attached after the piecing and quilting were finished.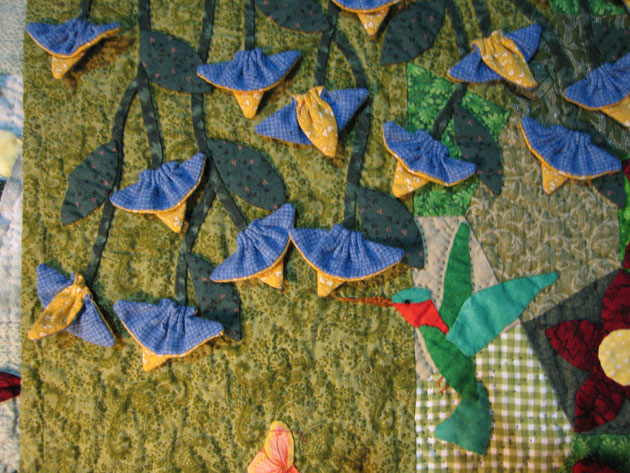 This was definitely one of the most difficult parts of the quilt in terms of piecing and later quilting. The petals and leaves of each flower are dimensional, tucked and sewn into the seams. This meant that in joining these miniature blocks I sometimes ended up with six layers of fabric!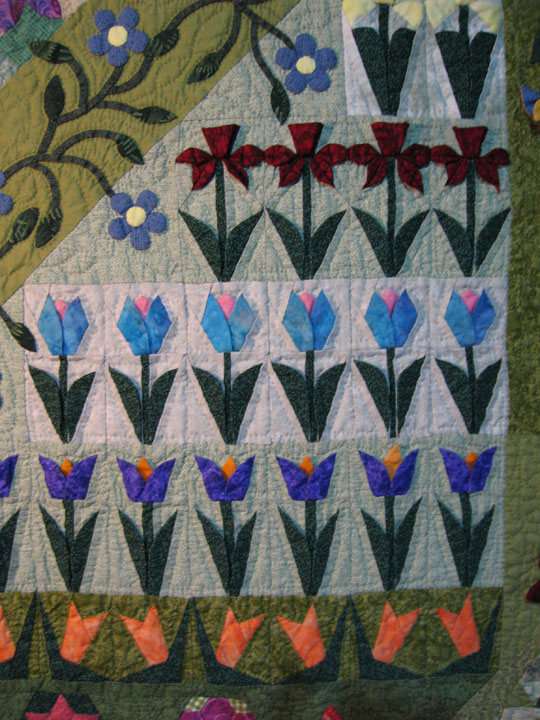 This quilt now hangs on a large wall on the main entrance to our home, where I can see it every day. It is a reminder of the duality in every aspect of life; of how grief and joy can coexist side by side, and of how life grows like a flower from a seed which in turn dies first in order to sprout. And so the cycle continues.
Spring 2010 Bloggers' Quilt Festival Give-Away!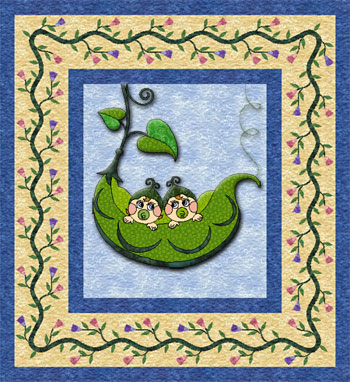 To celebrate this spring's Bloggers' Quilt Festival, I will be giving away my tutorial for Dimensional Sweet Peas (PDF format) and my Two Peas in a Pod pattern to 5 viewers who comment on this post. At the end of the fair, 5 names will be drawn randomly. Please be sure to include your email address at the end of your comment; otherwise, if your name is drawn and I have no way of contacting you, your name will be eliminated and another one drawn.
COMMENTS ON THIS POST ARE NOW CLOSED. THANK YOU TO ALL WHO VISITED AND POSTED! WINNERS OF THE GIVEAWAY WILL BE CONTACTED SHORTLY WITH THEIR PRIZES.