I have not been able to find a sturdy stand locally to use with cone threads. The only ones I've seen are attached to the table of industrial sewing machines. Purchasing one in the U.S. and having it shipped down has not seem cost-effective. Enter my homemade solution:
1. Take the plastic spindle of a CD case (we buy a lot of blank CDs around here!). For this purpose, you need one with a tall spindle.
2. Just in itself it is rather flimsy, but if you stack some old, discarded CDs on it, you will be weighing it down. (You can also lift the plastic disk and place small BB pellets under the disk to weigh it down. But old CDs work fine for me.)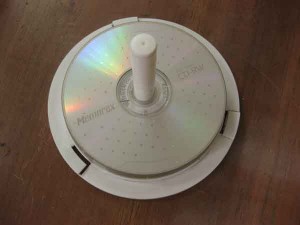 3. Place your cone on top, and forget about it tipping over!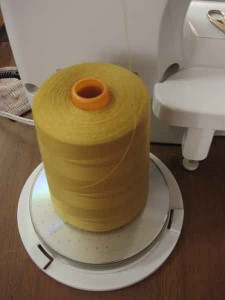 4. To complete the holder, place a small safety pin on your spool holder, and run the thread through the eye. Then thread your machine as usual.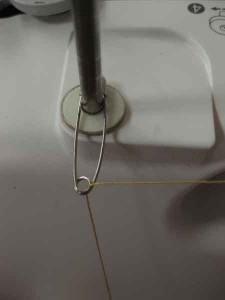 A nifty, cheap, practical solution.