Over the past month the weather here has been cold, cold, cold, and wet. Now don't get me wrong. I am quite aware that cold weather where I live in no way compares to the snow and freezing temperatures in other parts of the world.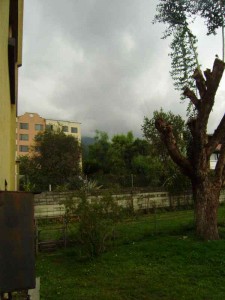 It is simply that we are used to pretty even temperatures all year long, with a few very cold days and a few hot days somewhere in between. And we are not used to day after day after day of gray skies, rain, and low temperatures. And no central heating systems.
This kind of weather is conducive to hibernating. Seriously. And the best place to keep warm is usually in bed. So over the last few weeks I've spent a lot of time reading, watching movies, and crocheting/knitting. Eventually I started to get bored with that. So at the moment a spring cleaning frenzy has kicked in. It keeps me moving, so it's a productive way to stay warm! 🙂
For the first time ever, I categorized, alphabetized, and centralized all our books in one room, now known as "the library."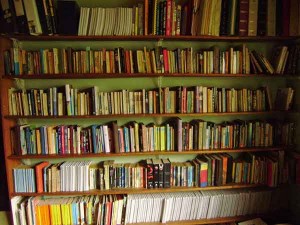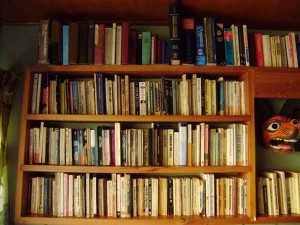 Or so I thought.
Because, as it turns out, in spite of three walls with bookshelves on each one, books still spill out into other rooms in the house. Like the living room…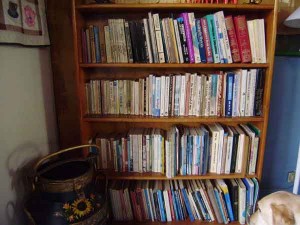 And, of course, a whole bookshelf in my studio with my quilting and sewing books.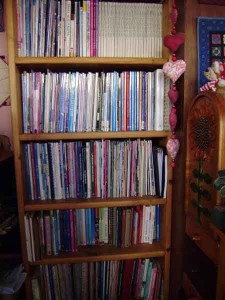 What I had not realized is that everyone in this family hoards books in his/her bedroom. Lots of them. Jamie has one shelf (and a cupboard for textbooks) set aside for this purpose… but somehow they have managed to spill out onto the desk and into small piles next to her bed…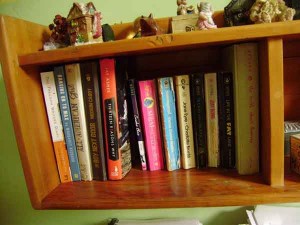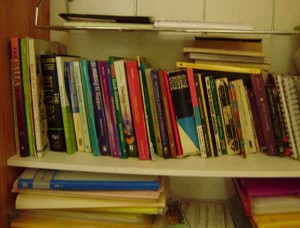 I have not one, but two different shelves with books in my room. You know, those books I just HAVE TO have on hand. Between the two I counted over 120 books in my room alone, not to mention the four or five additional ones on my nightstand. Really? Who reads four or five books at a time?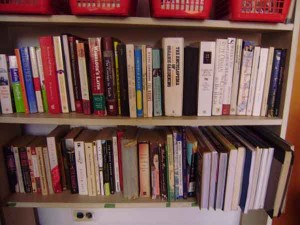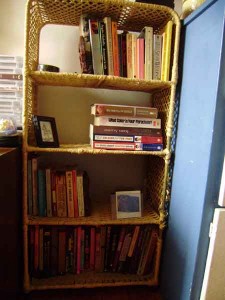 And it seems to be contagious… I found that two out of the three drawers in Alexia's desk held books!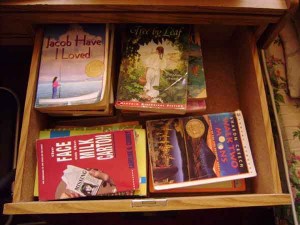 And this considering that over the past couple of years we have really cut down on printed books, and currently tend to purchase audio and e-books. I shudder to think what our house would look like if we had the printed versions of all of those! Oh, well. I guess an addiction to books is not necessarily a bad habit…
As an extension of my book organizing, I also decided our library was the perfect room in which to organize and store my quilts. One of the bookcases takes up only half the wall, and hangs on the upper part of it, so I attached a rod underneath it to be able to hang small quilts from it. I'm pretty pleased with this solution: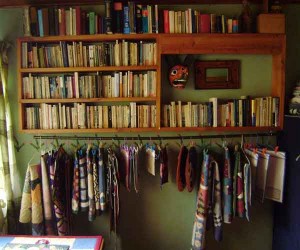 There is enough room here for a couple of tables on which to place small quilts that need to lie flat, cupboard in which that I will be using to organize small handmade gifts in, and a sofa for anyone who decides to cozy up in this room to read.
I'm wondering where my spring cleaning will take me next.