This is my entry for the Spring 2011 Bloggers' Quilt Festival, sponsored by Amy's Creative Side. Click on the button in the sidebar to see other participating blogs.
****************************************************
For this post I thought I'd dust off an old favorite to share. This is a quilt I completed back in 2003. I was housebound, recovering from a surgery and going a little bananas, so this is what I worked on to fill my time. A few months before that I had purchased EQ5 (Electric Quilt software), and this was the most ambitious project I had been working on so far. I was so pleased with the results I decided to submit it to their 10th Anniversary Contest, and was tickled pink when it won first prize! And several years later, I was invited by the Electric Quilt Company to put out a CD of dollhouse patterns born out of this quilt. I didn't know it then, but this quilt pretty much put me on the map as a designer!

Click on any image for a larger view
Finished size: 58″ x 62″

When my children asked me why I named my quilt, "My Dream House," I told them: there are no kids… there is no mess. The kitchen is tidy (obviously nobody cooks in this house!), the whole house is magically in order, and no one seems to sleep here, because the bed is always made. In my dream house… everything takes place in the studio!
Sometimes I drew blocks from my imagination, and sometimes I used decorating magazines for ideas. I even dragged furniture around the house so I could see it at a distance to judge angles. The ironing board, iron, and sewing machine are replicas of my own… I just set them up on the other side of my studio and sat down to "paint" them on my modern-day "canvas"… my computer.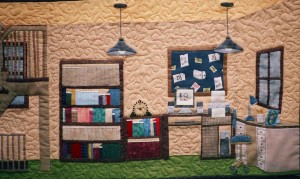 From the very beginning, my intention was to make the studio the focal point of the quilt, and I think I was able to achieve that. I also wanted to have a lot of small details, so that when looking at the quilt there would be lots of things to "discover."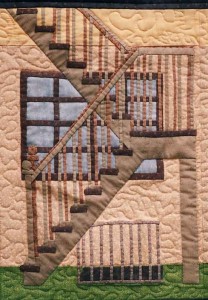 The biggest challenges – in design and sewing – were getting the correct angles for the rectangular blocks (which particularly affected the windows) and the staircases. I wanted viewers to imagine climbing up those stairs!
Sewing really pushed my limits, too. The hardest parts to sew: those itty, bitty, little blocks… like the pincushion, and bottles on the bathroom shelves. I had to hold some small pieces down with a pair of tweezers to sew them!  The staircases were also challenging and took a long time to sew, in an effort to keep all those strips straight.
Would I do it again? In a heartbeat.