Rather an odd number, I know. And no, it isn't my house number. Neither does it belong to my P.O. box. It isn't a pin number or a password. In fact, until now I hadn't associated it with anything in particular, so it is a number I could easily forget. That is, until my techie son Jared pointed it out to me.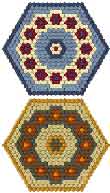 This is the number of patterns, projects, and tutorials we have on our website right now. That is, published items. This does not consider discontinued patterns, including those we will be bringing back through our new online shop. Nope. I'm talking about 701 member patterns/projects, 296 blocks in the Design Library (also for members only), 60 tutorials, and 78 free patterns/projects.

I do keep a database of all the projects we carry on the website, to help me keep track of the different categories, and particularly when we decide to discontinue something to make space for something new. But I had never added the numbers up.
A while ago Jared and I had discussed having 1,000 items as the absolute ceiling to how much we could handle on the website. Things just kind of snuck up on us, I guess.
I have to say… even I am impressed! 🙂 And maybe just a wee bit tired…