I love hardware stores. Maybe even as much (possibly more?) than fabric stores. And that is because there is so much to be found in a hardware store that can be used in a quilting studio at a fraction of the cost in comparison to similar products to be found in quilting or craft stores.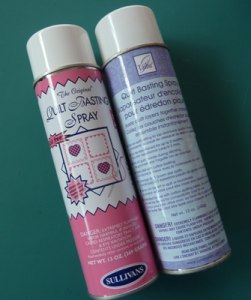 A case in point was my discovery this week. One of the things I *splurge* on whenever someone comes down for a visit is basting spray. It tends to be an expensive item, at around US$12 a can. But since I discovered it, I have always felt it was worth every penny in the time saved preparing a a project for either hand or machine quilting. And our local quilting store has now started to import the Sullivans basting spray that I tend to prefer. At a whopping price tag of US$ 22 a can. And I figured it was still worth the money in view of the amount of time saved when spray basting.
That was, until this week when I made a wonderful, wonderful discovery, while visiting the hardware store. I was purchasing a toilet seat, of all things, but obviously couldn't walk out without first going up and down aisles checking different products out. And I came upon this: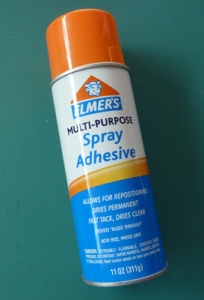 Now, what's interesting about this can can be found on the label. Among other things, the words "allows for repositioning" and "temporary bond" caught my eye. And look at the list of possible materials it can be used on: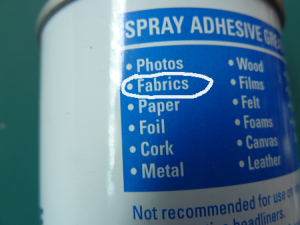 The price tag? US$ 2.49. So I obviously had to try it out. Now granted, the label also states that it is a water-resistant adhesive, so I didn't know if it would be suitable to be used as a basting spray. I prepared a small sample and followed the instructions for a temporary bond. And it worked. I was able to reposition both the fabric and the batting without any problem. Next I machine quilted half of my sample, and hand quilted the other half. No stickiness on either needle. So far so good. All that was left to test was if this stuff would wash out or not. And I can tell you that although the label states it is water resistant, it does wash out. Maybe because I also used detergent, right?
I also compared labels. I'm no chemist, but I can't see what the difference is… other than the price tag. So next I went online to research this subject a little. All it took was a quick search on Joann.com. Check out the choices (and prices) when searching specifically for "basting spray:" (click for larger image)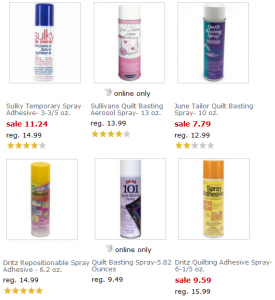 If you broaden the search to "repositionable" or "temporary bond" you have some additional choices. All of these are suitable for fabrics… so why the huge difference in price?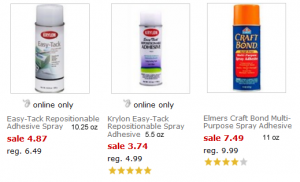 I guess the only way you can know is by testing products. What I can tell you that at least for know, I am most certainly switching to Elmer's Multi-Purpose Spray Adhesive. And I think I'll stock up… just in case. 🙂