Today I would like to address a comment left by our friend Irene on my last post, The Best Quilting Library. Irene asked if any of the books in this collection cover the basics of fabric dyeing.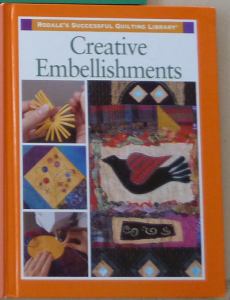 Unfortunately, the answer to this question is "No."  However, I should also mention that three of the books in this collection include interesting chapters related to creating your own fabrics. In the Creative Embellishments book there is a really good chapter covering the basics of stamping with fabric inks or paints using commercial stamps. It also includes suggestions on how to include words (stamped, obviously) and on finding different materials for stamping, like leaves, shells, foam, wood blocks, corks, and more.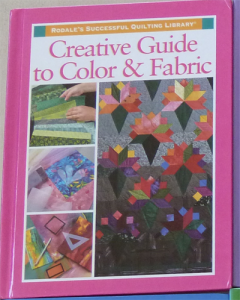 The book Creative Guide to Color & Fabric has a chapter on designing your own fabrics. This is also very basic information, but the photographs are excellent and the explanation in each paragraph is thorough enough to help you get started. (I think a lot of this involves experimenting, anyway). The techniques covered also include stamping (with emphasis on the use of odd items as stamps), using masking tape and brush fabric paint on, and quick and easy glue resist.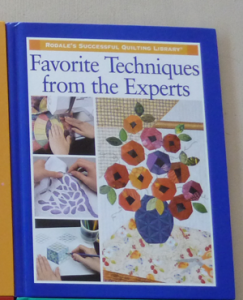 And in Favorite Techniques from the Experts there is a section on Sun Printing – one of my favorites. You do need special fabric paints for this (Pebeo Setacolor), but the technique is very easy. And I like the instructions in this book because there is a photograph for each step of the process. You just can't get lost.
Irene also asked for book recommendations on fabric dyeing. So here are my two favorites.

Hand-Dyed Fabric Made Easy
is my "Bible" when it comes to using commercial dyes for large pieces of fabric (I usually dye around 2 – 3 yards). I'm afraid this book isn't available new anymore, but you can find used copies). I like this book because it approaches fabric dyeing like a cookbook. The first half of this book concentrates on color family dyeing. So you work with smaller cuts of fabric (¼ – ½ yard), measure your dye into zip-lock bags in different concentrations, add your water and fabric and let sit. This way you end up with a whole set of fabrics within the same color family, but varying in intensity. The second part of the book is a project guide that includes working with light to dark color families, color wheel brights, natural colors, working with blacks, and special blends, among others. I particularly like the instructions on twirling, folding, and gathering the fabric for special effects.

Hand-Dyed Quilts
is also divided in parts. Chapters 1 and 2 deal with the basics of color theory and dyeing methods. Chapter 3 has to do with quilting basics, and Chapter 4 covers artistic embellishments, and Chapter 5 includes 20 quilting projects. In all honesty, three fourths of this book are wasted on me, because I'm not interested in the projects. However, what made this purchase worthwhile for me was the 5 pages on the method used (air brush paint, easily available where I live as opposed to commercial dyes), eight pages with detailed photographs for eleven different folds, sixteen pages of photographs showing the results of different folds and color combinations (talk about eye candy!), and another three pages on drip painting and on using masking tape as a resist. If, unlike me, you would like to sew a few of the project included in the book, there would be nothing in this book not to like.
There are tons of books on fabric dyeing. These two I recommend here thinking about friends like Irene who, like me, live in countries where some of the supplies described in a variety of books simply are not available. So I hope this provides a little insight.
What I would recommend for those of you who have to rely on online purchasing is to do your homework. I purchase most of my books through Amazon. If a book does not have a "Search Inside," I don't buy it. Alternatively, you can also do a search in Google Books. Quite often you will find a preview there that is not available in Amazon or other online bookstores.
In my last post, Eldrid also asked for more info on the book Innovative Piecing. So that will be the subject of one of my next posts!