I love books. Both reading and collecting them. Hey, I come from a family of bookworms… what can I say? I have a large collection of contemporary fiction, and a very respectable assortment of glossaries and dictionaries. (Yes, I am one of those people who enjoys *reading* a dictionary). And, naturally, I have a pretty impressive number of crafting books. I haven't counted them all, but I can tell at this point I have close to quilting books.
I guess there's no doubt how much I love books. I am particularly happy with my last book purchases. You see, it's taken me a couple of years, but I finally have completed my collection of the Rodale's Successful Quilting Library. This is a set of 15 books published over a 5-year period (1997-2001) and now long out of print.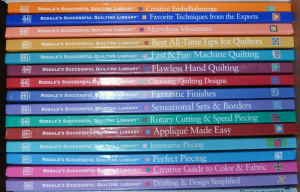 At the time they were published each book cost US$19.95. It's taken me a couple of years to find and purchase them – all used. I think the one I paid the most for was around $5. Most of them I purchased for $1-2. Yet the wealth of information in these books is worth their weight in gold. I am especially happy because this is a wonderful resource for my students.
All of these books follow the same format: very clear instructions, with photographs for each step. So even for those among my students who don't do too well with English, they are able to learn from the photographs alone. The material in each book is very well organized, with a section called the Quilter's Problem Solver at the end of each chapter that round out the already in-depth information covered in the chapter itself.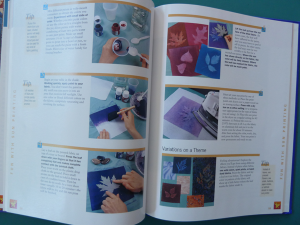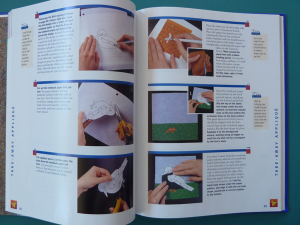 The basics are all covered: piecing, foundation piecing, appliqué, drafting, hand and machine quilting, embellishments.. you name it. I thought I'd share a couple of pics of the covers… and if you are interested in knowing a little more about the contents of any particular book, just leave a comment and I will write up a little review for that book.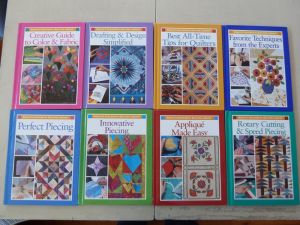 There's nothing I enjoy more than a lazy afternoon browsing through my quilting books. Yet truth be told, if for any strange reason I were only allowed a handful of books, this would be the collection I would stay with.