A few days back I wrote a post about the Rodale's Successful Quilting Library and how happy I am to have now collected all 15 books in this series. Eldrid left a comment asking for further information on what the book Innovative Piecing (Rodale's Successful Quilting Library)
was about. So this is a short review on that book.
First I should point out this book was published in 2000. So perhaps some of the techniques covered in the book are by now familiar to us all. Or maybe not. 🙂 And perhaps what makes this book interesting has to do more with the way in which the reader is encouraged to think outside the back. Basically, as stated in the introduction, this book is about quilters giving "a new twist to an old technique and who march to a different drummer when quilting."
The book is divided into nineteen different techniques. I won't cover them all here, but I would like to highlight a few that I find particularly interesting. In a nutshell, however, the book deals with giving a twist to classic blocks or techniques. So, for example, it gives shortcuts and a spin on the Drunkard's Path and Feathered Star, and off-kilter versions of favorite blocks. Several of the chapters deal with curves, from gentle waves to dramatic arches. There is a whole section on 3D blocks (bow ties, stars, and pinwheels), another on tessellations, and yet another on pieced landscapes inspired by photographs. But I will focus here on some of the ones I find particularly interesting… and innovating. 🙂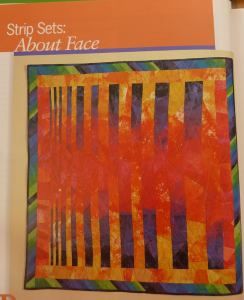 This chapter could be described as cutting up a rainbow. Color-rich strips sets are sliced and flipped around for quite a range of  dramatic effects. All it takes is very basic piecing skills. The different effects are achieved by simply moving the sliced strips up or down slightly, and by adding more strips of other colors, if desired.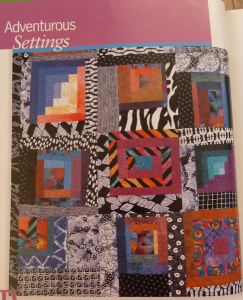 This next chapter on settings focuses on orphan blocks and creative setting solutions. It provides ideas for working with blocks of widely varying sizes or for showcasing a favorite fabric or a collection of photos in different sizes. This chapter is sure to spark ideas for those stumped with what to do with orphaned blocks left over from quilting projects or with blocks collected from swaps where they differ in size.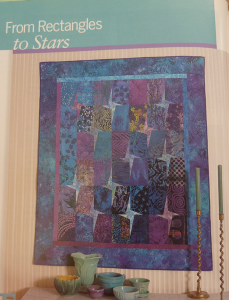 A very, very easy technique where a small rectangle is sewn to a large rectangle to create one unit. Four units create a four-pointed star. This is a super easy and quick technique, perfect for showcasing beautiful fabrics. I think it would be perfect for the modern quilter interested in moving beyond simple squares and rectangles to something with a little more pizazz, but easy enough to be able to complete quickly.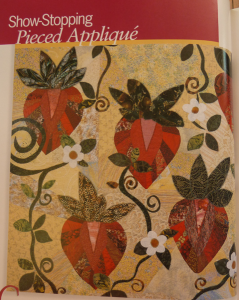 Interestingly enough, there is one chapter in this book that deals with appliqué! Since this is my first love, I was obviously very interested. Basically, it deals with combining piecing and appliqué to add visual depth. This technique would be appropriate for large appliqué pieces, not small ones. I think I'm really going to have to give it a try.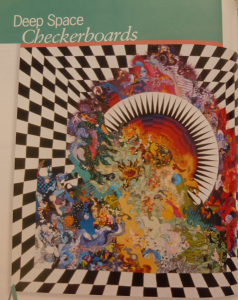 I don't remember ever seeing a book or tutorial on 3D checkerboards. Well, it's here… in a very complete nutshell. This chapter shows you how to draft, make templates, and construct checkerboard borders, and shows you how to sew them onto a background square while carefully mitering the corners. Way cool.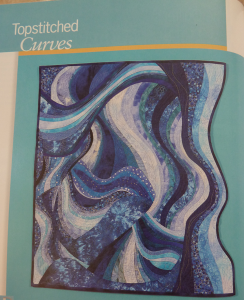 I think the vast majority of quilters are afraid of sewing curves. And yes, it's not easy. This chapter seems to take that into account, as it focuses on freeform curves that do not require templates or clipping. There is some planning and pinning involved, but nothing too complicated. I would question if this could be called a true piecing technique… since it is top-stitched, I would be more inclined to consider it a variety of appliqué. Call it what you like, the effect achieved is stunning.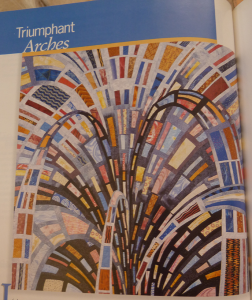 Last, but not least, there is another chapter that also deals with curves. This time it's about very deep arches. Freezer paper templates are involved this time around, but the secret lies in careful planning and pinning. As opposed to other chapters where the technique is described with step-by-step photos, this chapter also includes the full-size practice block used to demonstrate the technique.
I don't know that I would try every single technique in this book. As usual, there's not enough time in a lifetime to try everything, is there? But there certainly seems to be a little something for everyone in this book! I hope what I've been able to share with you here gives you a little taste…