I don't know about you, but whatever extra little time I find here and there these days is dedicated to sewing Christmas presents. Well, knitting, too.
In spite of my busy-ness (is that where the word 'business' comes from?), quite unfortunately there isn't much I can share here because of all the "interested parties" who tend to wander around here and who could see more than I intended them to… So all I can offer is a few sneak peeks.
A fun project I'm working on involves hexies… one of my favorite addictions! This is something I am working on mainly on Thursdays, when my sewing group meets. Hmm… I wonder what it's going to be?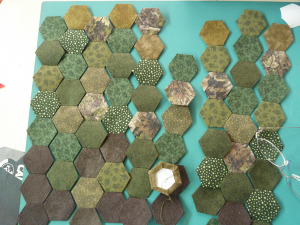 Other sewing projects are in very early stages, with nothing to show. But there is one project I can share freely, as it is very doubtful the recipients will ever come in here to see it. And this is fun, because it involves working with Julian. We are making a bed quilt together!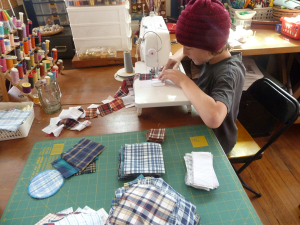 Julian is doing the initial piecing, and I will take over whenever the project gets too big for him to handle. It will be interesting to see how far he can go on his own.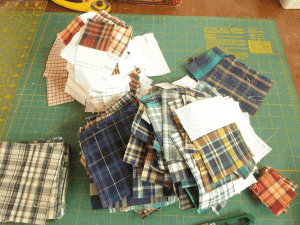 Evenings I've been doing a lot of knitting. Some fun pieces I would love to share, but which will have to wait until after Christmas. Don't want to spoil the surprise!
How about you? What kind of sewing are you doing these days?