At a time when I probably should have been busy packing and out looking for a new home I started to feel a little overwhelmed by it all and decided to halt things a little to try and get my bearings. So for the the past week and a half  I simply shut everything out and have been sewing. And sewing. And sewing. Wow… it certainly is therapeutic!
Sometimes I feel rebellious about not having enough time to sew the projects I design. It feels like I am always living vicariously through others, and I certainly am grateful and oh, so happy when someone sends me a photo of a finished project. But I also get a teensy weensy bit jealous… so even in the midst of a busy, busy moment in my life, I made time to work on a project that I have wanted to make for the last three years: my Christmas Dove.
Normally I would hand applique, but with all the pieces in this design it would have taken me months to complete it. So I have resorted to machine applique and have to say I am very happy with the results. We now have a long holiday weekend, so I am hoping I will be able to squeeze some time in to quilt and finish it.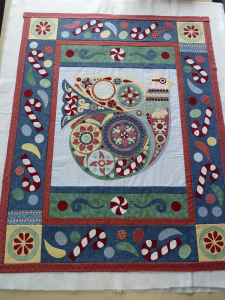 Evenings I continue to work on my looooooong term hand quilting projects. I still have quite a bit to go, but am starting to see some progress.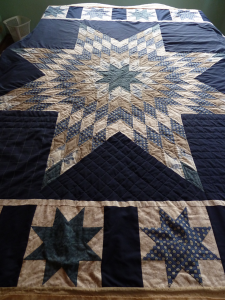 I am so grateful to have quilting in my life. It certainly helps me to balance things. 🙂