Well, ok… not quite there yet, but I have (finally!) organized my new sewing space.
My sewing and embroidery machines have been set up and are ready to go. Thread racks and organizers are in their place and have started to tempt me ("use me, use me!"). Scissors, rulers, and rotary cutters have been unpacked and are within easy reach.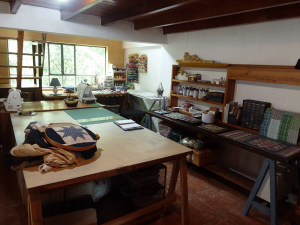 Work claims me right now, but I have unpacked and organized the basics to get me back into sewing. There is no excuse now. 🙂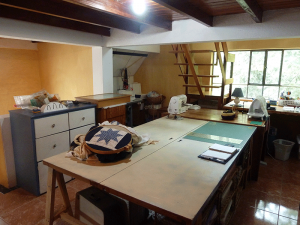 There are still many boxes and containers stashed under the tables, and I refuse to unpack them… yet. Probably not until I have moved into a definite home. Although I never considered I had a large stash of fabric, I decided to keep large cuts packed, and have only left my fat quarter collection out and on hand. This will have to do for now… I guess I'll limit myself to small projects for the time being. If I do decide to work on a large quilt… I'll just have to go and buy some fabric! That sounds about right, doesn't it? 🙂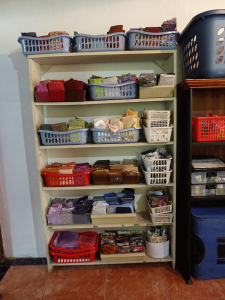 Also unpacked is my nemesis: the Lone Star quilt I've been working on for years! All that's left to hand quilt are a couple of star blocks and the border. Maybe I'll finish it in this house?