Even though I will not be teaching throughout the month of December, for some strange reason things seem to continue hectic this week. Hmmm. In any case, I am making some progress on gift wrapping ideas. Now I only need to finish the gifts that will go inside!
Since I continue addicted to English paper piecing, this little basket is definitely appropriate to put some of those EPP hexagons to use. I had seen this basket on a German website a couple of years ago but never found instructions for it. After several trials I finally figured it out, and found it is really a lot easier to make than it looks. The project file for this little hexagon basket can be found here.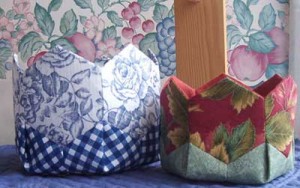 Then, obviously, there are fabric bags to make. No matter how many you make with the intention to "recycle" and use year after year, the recipients of the gifts have different ideas and invariably want to keep them. So here's a new, quick and really cute bag to use for gifts this year. Click here for instructions.