Don't let this plain-looking, unassuming cookie fool you. As any Scandinavian will tell you, its flavor carries quite a punch. You might think the combination of pepper and cardamon is kind of odd, but believe me it works!
Pepparkakor
1 ¼ cups butter
1 cup granulated sugar
¼ cup cream
1 teaspoon baking soda
3 to 3 ½ cups all purpose flour
1 teaspoon ground cinnamon
1 teaspoon ground black pepper
1 ½ teaspoons ground cardamom
1 teaspoon baking powder
Cream together the butter and sugar until light and fluffy. Stir in the cream. Add the baking soda and a little water (no more than 2 tablespoons) to the butter mixture. Add the spices, baking powder and flour to the butter mixture. Blend until a nice dough is formed. Roll dough into sausages about 2 ½ inches in diameter and wrap tightly in waxed paper. Let dough chill thoroughly.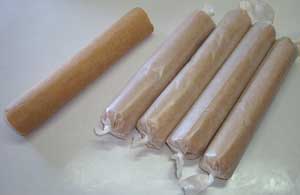 Preheat oven to 375°. Remove chilled dough and cut into thin slices.

Bake on a lightly greased cookie sheet for 6 to 8 minutes. Cool on wire rack. Makes 5 dozen.