You may or may not have heard of this cookie. When I started making it over 30 years ago I had never heard of it, but I have now seen several recipes on the Web. This is one for cherry lovers!
Santa's Whiskers
1 cup butter or margarine
1 cup granulated sugar
2 tablespoons milk
1 teaspoon vanilla
2 ½ cups sifted all-purpose flour
¾ cup finely chopped candied red cherries
½ cup finely chopped nuts
¾ cup sweet coconut flakes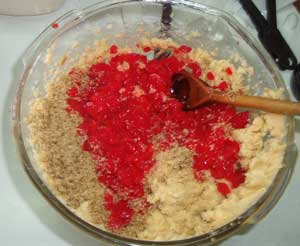 Beat butter and sugar until fluffy; beat in milk and vanilla; mix well. Add flour, ½ cup at a time, mixing well every time. Add cherries and nuts. Divide dough in half. Shape each ball into a cylinder about 10 inches long and about 2 inches in diameter. Roll each in coconut, then roll in waxed paper and chill until firm, 2 hours.
Heat oven to 350° and cut dough in slices ¼ inch thick. Place 1 inch apart on ungreased baking sheets. Bake 10 to 12 minutes, until edges are lightly browned. Cool on racks. Make about 6 ½ dozen cookies.