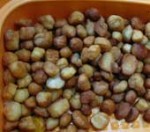 Fanesca is a traditional soup here in Ecuador and could very well be considered the national dish, as it is prepared throughout the entire country. It is only prepared once a year, during Easter, and served throughout Holy Week.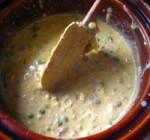 The origins of this tradition are as diverse as its ingredients. Some studies suggest it is an Inca dish introduced to Ecuador when these people invaded from the south; others claim it was instituted in the country by the first Catholic priests, as a way of  overriding the local "pagan" feasts associated with the harvest, which coincided closely with the Easter season. The less pious believe that the harvesting of grains and legumes in the Andean highlands simply combines fortuitously with the time of Lent.
There are those who defend to their dying breath the religious element of fanesca: its dozen grains and legumes symbolise the 12 Apostles and the 12 tribes of Israel; the fish symbolises Christ and the way that his message feeds the Christian community.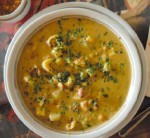 In any case, this certainly is my favorite Ecuadorian dish. I don't know if that is because we have it only once a year – as far as I'm concerned, I could eat it every week! The base of the soup is twelve legumes/vegetables and bacalao (cod): red beans, white beans, lentils, fava beans, peas, corn, rice, peanuts, chochos (lupini beans), pumpkin, onions, and squash. Because of it's very strong taste, the bacalao is soaked overnight in milk, and the milk is added to the soup, while the fish is fried separately and served on the side. The different ingredients are all cooked separately and then mixed together with milk, fresh cheese and herbs.
The soup is accompanied by a series of side dishes: hard-boiled eggs, small cheese empanadas, fried plantains, sweet red peppers, avocados… For desert, caramelized figs and cheese. Ok, I'll admit I'm not very fond of figs, so I'll have a second bowl of fanesca instead.
We had 20 guests over yesterday to share our fanesca… what a nice crowd! (Ok, so you can only see arms reaching for food but, believe me, they really were nice people!)