Thursdays are always special because that is the day my sewing circle meets at my house. Yesterday we seemed particularly excited because we hadn't met last week due to the Easter holiday. Elena had not been able to come to our last meeting and Mariangela has been gone for several weeks (visiting back in her native Italy – we're hoping she'll be back next week).
It is always fun to come together, and even more fun when someone brings a finished project!
Bachita and I are the ones who set aside to work on only on Thursdays. I'm still quilting my Hibiscus wall hanging. She, on the other hand, has finished the Hexagon Flower Garden she has been working on for several months and over the two weeks we haven't seen each other started on a Flower Lattice Tablerunner.
Susy, on the other hand, finished a hexagon table topper for her daughter, and has started to work on a set of under plate coasters.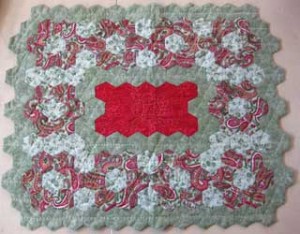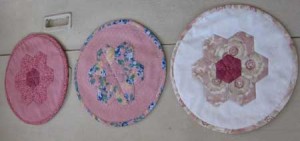 I, unfortunately didn't have much to share… I've been working on step-by-step class samples (unfinished, so boring). I did, however, show them I finally made a chatelaine for myself, too.
Any way you look at it, it's always fun to come together and share!