For what seems like the umpteenth time in the last three years, Ecuador is going back to the polls today to elect (or, more probably re-elect) president and vice-president, assembly members (parliament) and local authorities (mayors and council members).
The people of Ecuador directly elect all political authorities, including the nation's President, Viice-President and Assembly members. Voting is a constitutional right for all Ecuadorian citizens and is compulsory for literate Ecuadorians between the ages of 18 and 65 years old residing in Ecuador. Voting is optional for the illiterate, for senior citizens over the age of 65, and for Ecuadorians living abroad. Under the new constitution approved last year, voting is now optional also for young people aged 16 to 18, members of the police and military, prison inmates who have not been sentenced yet, and foreigners who have resided in the country for at least 5 years. More about the current elections here. Elections always take place on a Sunday… on days like today.
My kids and I (and the grandkids) all have dual citizenship. This means we are able to vote in Ecuador and the U.S. Strangely enough, although we all have the same address on our legal papers, each one of us votes at a different voting center. These centers are always public or private schools and universities. The citizens serving at the polls are mainly university students and teachers. That means that for the second time around my daughter Jamie was called to serve at one of the polls. For this, she had to get up early… and I dropped her off at 6:30 a.m. (polls are supposed to open at 7:00, although somewhere between 7:30 and 8:00 is more usual).
After breakfast with my oldest son, Jonathan, the two of took off (although he now lives across town, Jared is the one who gets to vote the closest to where the rest of us live – go figure!). We try to go early, before it gets too crowded. The school where I had to vote was still pretty empty. It took me longer to cast my votes than it did to get in and out of there. Here is a view of a few people strolling into the school where I just voted, at about 8:15 a.m.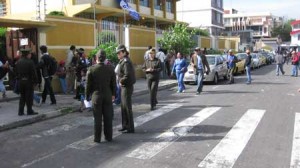 Outside the school, a few vendors had started to set up.. by noon the streets are full and you will see entire families going out together to vote, and to have their noon meal – yes, on the street – while they're at it. The sight is incredible and the sight and smells truly enticing. Since I don't like to get stuck in the crowds and traffic jams, I always go early, before this "carnival" begins. But here you can see one woman who has already set up her stall and is selling hornado (baked pork), llapingachos (potato patties) and verde (boiled plantains).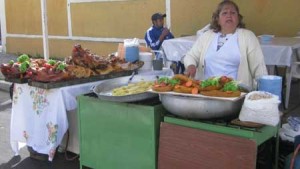 Next we're way off north, to the school where Jonathan has to vote. One again, just getting there takes is longer than actually going in and voting (the police block off the streets surrounding the schools, so sometimes you have to drive around to find a way in). This is a much larger school. Still not too many people yet.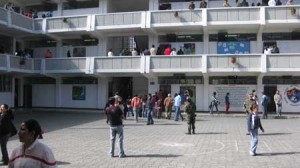 Jonathan had to wait for only one person in front of him. There he is, on the third floor…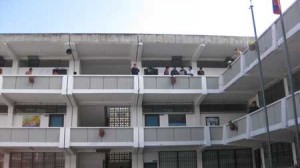 Can't see him? Let's zoom in a little… There he is!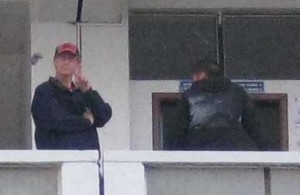 It is 9:00 a.m and we are done. Once outside, we have our voting certificates plastified (this little card is needed for different transactions, similar to an I.D. card). We check out a couple of food vendors here, too. Mmmm… smells good!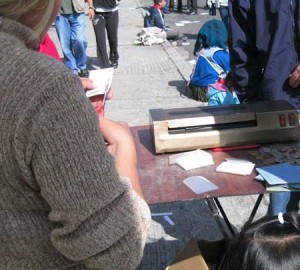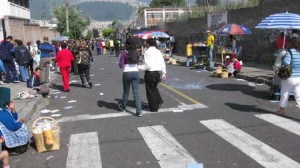 So far, this is typical for us on election day. Normally we would head on home, do the laundry, catching the news on tv off and on throughout the day until the results are announced in the evening. This time, however, election day has been special for our family. For the first time in her life, my 75 year-old mother is voting. After living in Ecuador for over 50 years, it is under this new constitution that she is given that right. So Jonathan and I head on back to pick her up… she's next in line to go vote.
Foreigners all vote at a school in the colonial part of town. Since the streets downtown are very narrow and parking is hard to find, we prefer to take the trolley. My mom is excited… this is fun!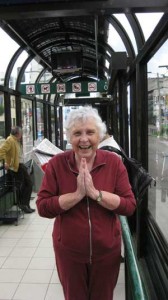 The school where my mom votes is a beautiful colonial house that has been restored: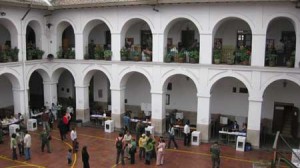 She shows her I.D. card, they look for her name on the list, and they hand her the ballots.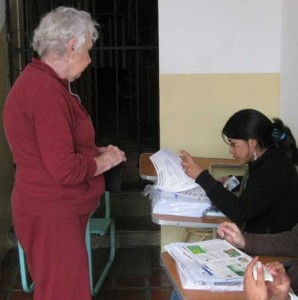 Oh, wow! This is a tight squeeze!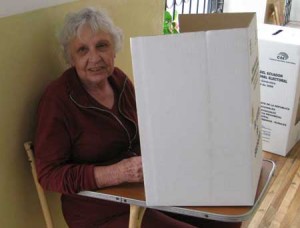 For the first time in her life, this woman is finally voting! Wheee!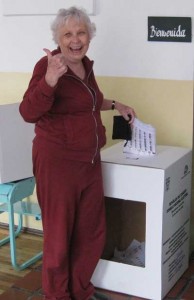 Back downstairs we "bump" into a familiar face. Víctor, the young man in the middle, is who helps us with the yard work. He has been called to serve at the polls and he is here, doing his civic duty. Smile, Victor!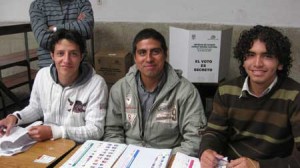 All in all, this has been an exciting morning. I can't believe we did it all so quickly. Already back home by 10.30!