When there isn't a lot of time to sew a large project, I start on something smaller to get my sewing "fix." There's no better rush than that of finishing a project well and enjoying the end results. In addition, when learning new techniques I like to make several projects in a row to get the whole process to "stick" in my mind.
I made this purse in just a couple of evenings, following the ideas in the book It's a Wrap: Sewing Fabric Purses, Baskets, And Bowls.
I have enjoyed this technique so much I went out and bought 200 meters of cotton cord! You can see it here as I start the process of sewing the bag: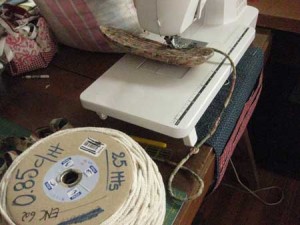 The bag continues to grow. The most time-consuming part of this technique lies in wrapping the cord with fabric. Sewing the bag itself actually goes really fast.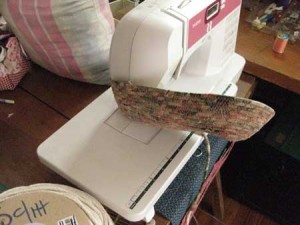 Add some leather handles, make a little embellished (beaded) closure, and I'm done!