The shop where I teach is going to have a sale to make space for new fabrics. Among the products they are trying to move are all these animal panels – most of them are to make cushions and tablecloths. When asked what other use I could think of for these panels, I immediately thought shopping totes. I mean, I'm not the type to decorate my home with wildlife motifs, but certainly would entertain the notion of making a variety of these totes for my grocery shopping!
So, I brought a couple home to play around with over the weekend…
You've probably seen these panels, right? Two different motifs, one for each side, plus two strips to be used for additional decoration. I took those two strips and used them for the bottom of the bag – two layers, to make the bottom stronger, and easy boxed corners.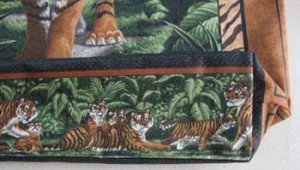 I sewed the entire bag with French seams for extra sturdiness, and used some cool straps for the handles. All in all, not bad for under twenty minutes of sewing time, wouldn't you say?