We spent the afternoon playing around a bit, dyeing some fabric the kids want to use in their sewing projects. We used a shaving cream method a little different than what you might have seen, to "tone down" our colors a little, as this fabric will be used for the background of the kids' projects and we didn't want the color to overwhelm the projects.
Working with shaving cream is naturally a big hit with kids. Here are a couple of shots for now… the kids had so much fun we thought it worth putting together a tutorial on this method… soon. (-:
First we collected our materials and covered up our clothes with old T-shirts… This is the "before" picture… we're ready to go!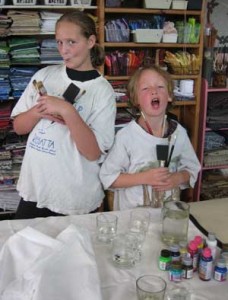 We got a little carried away with the shaving cream… quite possibly more landed on the kid's faces than on the fabric!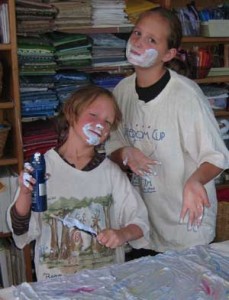 After the fun there were (naturally!) showers involved. (-: