Comments on this post are now closed. Winners will be announced shortly.

I was browsing through  the latest digital edition of Down Under Quilts magazine a couple of days ago and lo and behold came across a review of my book EQ6 Appliqué Drawing. It's very flattering to see things written about oneself, to say the least. And I find it very interesting to read about what draws someone else's attention and what they have learned using this book. To read the full review, pop on over to Down Under Quilts magazine and log in to read the latest edition.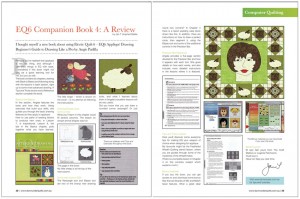 I then saw this same article featured yesterday on the EQ blog. And a reminder: all EQ6 Companion books are still resources for EQ7. One of the nice things about EQ7 is that it builds on what was already available in EQ6, so there isn't all this re-learning to do. Any new learning is precisely that: new features. Everything else continues to work the same. With regards to the Patch Draw blocks (and the Applique Drawing table), there is only one new tool to learn, and instructions for it are covered quite adequately in the User Manual and Help files. The tracing table is improved and pretty self-explanatory. Outside of that, everything covered in the EQ6 Applique Drawing book continues to apply to EQ7.  Now, isn't that cool?
Ok, so what does this have to do with a Giveaway? And a partial one at that? Well, it turns out that when the book was first published I received a little stack of books that I could do anything I wanted to with. And there are only a couple other people in this country besides me who use EQ. A few were given away as gifts, and I kept a couple myself. But at the end of the day, I still have 5 copies left. And it's such a shame to think of them collecting dust when someone could be using them. Quite unfortunately, the postage out of Ecuador is terribly expensive – it practically costs the same to mail it as it would to purchase the book at the store.
So here's my offer: if you are willing to cover half the postage, I will cover the other half and the book is yours (your cost if located in the Americas would be US$ 10, and for Europe and other regions, the cost would be US$ 12). Just leave a comment on this post indicating your interest, so we can contact you.
This offer will stand until June 20th, at which point the five books will be raffled. For more information on this book, click here.
UPDATE: What a great response! It was been suggested to me, so I am confirming here that should you be one of the lucky winners and wish for me to sign the book… why yes, of course I'll do that gladly! 🙂