Our sewing circle met again yesterday. And it looks like everyone was thrilled with the new yarn shop we found, because we have all been working diligently on our afghan squares. Hmm… I wonder if the motivating factor could be that –once finished– we are all looking forward to returning to that shop for some more lovely yarn? 🙂
Regardless of what the project at hand is, our friend Susy is always the fastest one in the group. Her strategy is to sit down every day and commit to a certain amount of work. And on this project she enlisted her daughter's help, too. Although floored by the fact that she arrived with almost half her afghan already joined, we really weren't that surprised. She has chosen to arrange her squares in a Trip around the World setting. Don't you find her afghan so far absolutely lovely?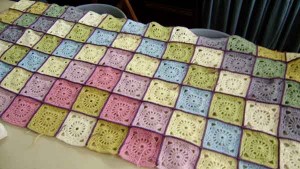 During our time together we also planned other projects we would like to work on together this year. Although this afghan project is using up a lot of scraps, we all still have more odds and ends to use up, so started to brainstorm as to other possible projects. More afghans are at the top of the list. And then I remembered the binder I have kept over the years with different crochet and knitting projects I at one point decided I would make… "someday." Oh, boy… I had forgotten about them. After taking a look, we all got excited.
This is another good one for using bits of leftover yarn, don't  you think?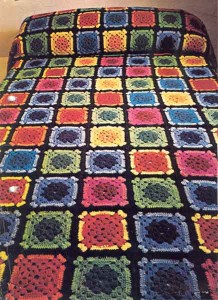 And given the fact that I have lately developed a taste for orange and turquoise, this might be the excuse for buying more yarn, right?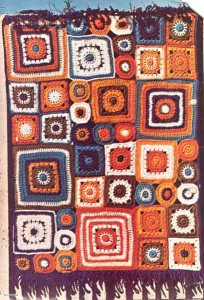 But this is the one that I find to die for, and will definitely be the one to come back to with all those leftover bits. I don't know, however, what I want more: the afghan or that absolutely, incredible leather chair?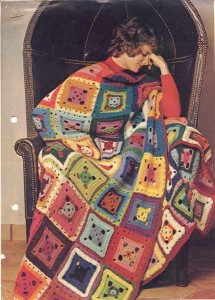 For the time being, however, I think my next project will be a broomstick lace afghan. It's a technique I learned over 30 years ago (!!!) and haven't made since. I think it's time to revisit it.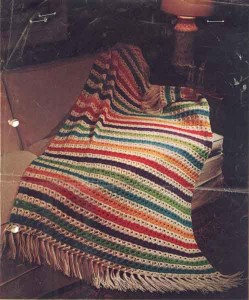 As to my own squares, I have been strict about this being an "evening only" activity, because it is something I can do while watching TV or listening to an audio book, and doesn't require the natural light I feel I need for hand sewing projects. At this point I have about 30 more squares to make and then I can start joining the afghan.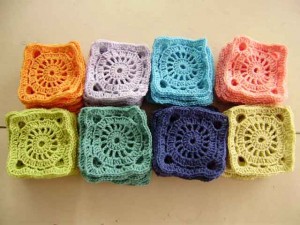 My problem right now, however, is trying to decide on a layout. So (of course) I decided to play a little in EQ7. The colors are not exact, but close enough to give me an idea of what possible layouts would look like. I can't decide, though. I guess I'm more inclined towards #1… but then keep thinking a random setting (#2) might be a nicer option.
What do you think?