I learned to crochet at my Ecuadorean grandma's knee when I was five. Knitting was something I started learning when I was eight, at the German school. Yep, we're talking about near on five decades that I've been knitting and crocheting… off and on. Yet in all that time I always rolled my yarn so that it had to be pulled from the outside of the ball. I didn't even know you could do it in such a way that you could pull the strand from the center and avoid having the ball of yarn roll all over the place while knitting/crocheting.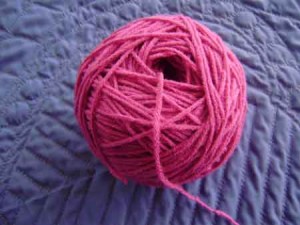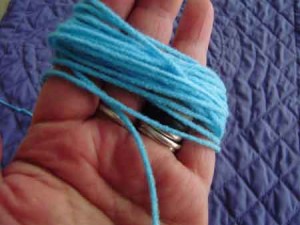 It is only because my friends and I decided to start crocheting these afghans together that the subject even came up. Our friend Susy took it upon herself to teach us how to do this, using a method where you wind the yarn several times around 3-4 fingers, and then change directions and continue to wrap around those same fingers. I decided I didn't like this method that much… it makes a somewhat loose ball. However, if you are interested, there's a video here that shows you how. It's somewhat blurry, but you will get the idea. And there's a variation of this method here.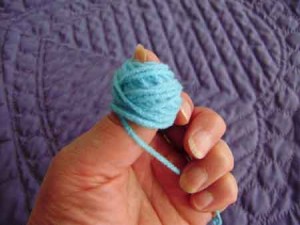 And then I found a method I liked better. It involves winding the yarn around your thumb. I liked this so much, that this is how I've been winding my yarn for the last couple of weeks. Then I realized there were some disadvantages to this method, too. One is having to hang on to the end of the strand to make sure it doesn't get lost up in the ball during the winding. And the other is that after a while my thumb starts to get sore! So after winding a ball, it's time for a break.
I decided to look into purchasing a yarn winder and swift online (nothing like this available locally), until I realized the cost could run anywhere between $90-100. And that is without shipping. Now, I do enjoy knitting and crocheting, but I certainly am not planning on doing so much of it that I would be willing to fork that much $$$.
As I looked around my studio trying to figure out a better alternative, I spotted something that could possibly work. Eureka! Now this is a good use for a cone thread spool! Just thread the end of the yarn strand through the spool…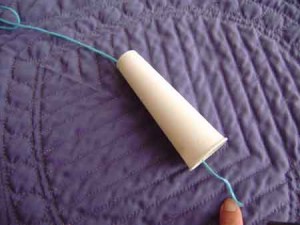 …start winding the yarn along the narrow edge of the spool until it's about ½" thick…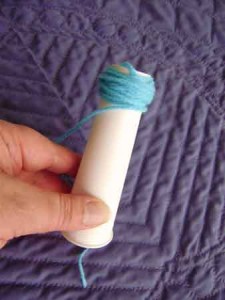 … and keep winding up and around, rotating the cone every little bit to achieve that ball shape.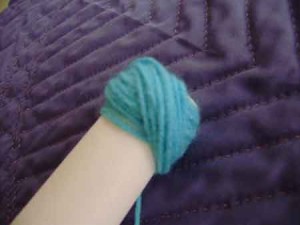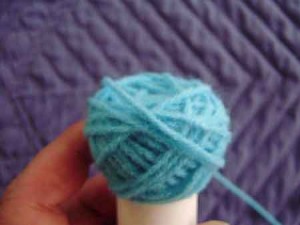 This method has proven to be faster and… no more sore thumb! Until someone shows me a better (and inexpensive) alternative, I'm sticking with this method!