My favorite, quick gift for a baby is a soft fabric ball. Quite often when I have odd fabric scraps left over, I cut them into the different shapes I need for a ball and collect them in a basket until I have enough to make a ball.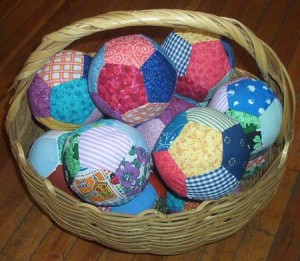 What I haven't done, however, is make a ball that jingles. So this week I wanted to do precisely that… and haven't been able to figure out how. Silly me, I thought I could simply insert the bell inside the ball and that would be that. I even tried different sizes. But no… Because of the stuffing around it, the sound is muffled and the bell doesn't jingle.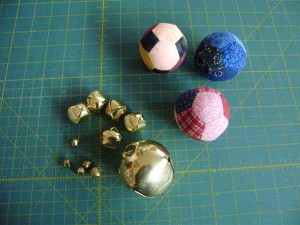 Ok, so I thought I would have to place the bell inside something so that it could roll around and jingle. I have ping-pong balls on hand, so I thought that would work. I cut one open, placed a bell inside… and it jingled.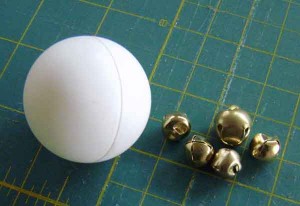 However…. although the sound is better, once inside the ball, with the stuffing around it, the sound is still pretty muffled.
Have you ever made a toy like this? What works for you? Any suggestions are certainly MOST APPRECIATED!