During our Thursday get-togethers I really enjoy seeing how my friends progress with their different projects.
My friend Bachita is currently working on a little Japanese wall hanging. I'm not quite sure, but I think she found the pattern in a French magazine. In any case, I am always blown away by how delicate her applique stitch is (she prefers a tiny blanket stitch). It sure has been fun to see this project grow, and I can't wait to see it finished.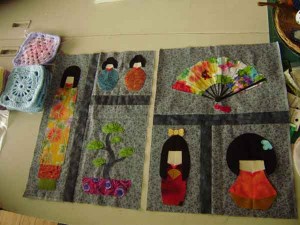 We still keep in close contact with our friend Mariangela, who is back in Italy. We talk via Skype almost every Thursday, and this is when we get to see what she is working on, too. This is one of her latest projects, and her first attempt at machine quilting. I think she's done a fabulous job!