Are you itching to design your own applique or art quilts but hesitate because you don't think you have the ability to draw? Think again!
I myself started to learn to draw only a few years ago. Wanting to design my own applique quilts was the motivation; using Electric Quilt software became the tool through which to do this. And along the way I came across several resources that really helped me understand some of the finer details about drawing. Drawspace is probably my favorite one.
Drawspace is basically a community of where drawing enthusiasts, professional artists, art educators, and authors of art books come together to share. There is a huge (and continuously growing) library of free, downloadable, high-quality lessons for anyone to enjoy, going from simple sketches to advanced drawings.
Like this lesson on symmetry…

Or learning how to draw folds in a sleeve…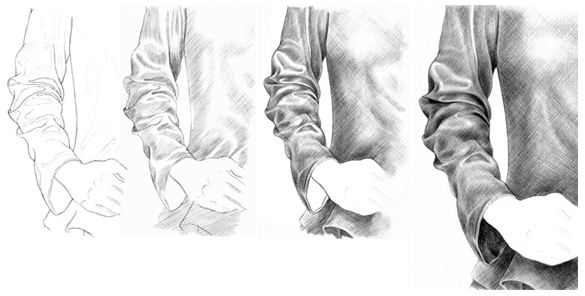 You have free access to hundreds of downloadable, professional drawing lessons that are ideal for artists of all levels – beginner, intermediate, and advanced. And you can also sign up for teacher hosted lessons at very reasonable prices.
You have nothing to lose… try it out!