Now don't go getting all excited on me, thinking I've got a great miracle diet going on here. I said waistband, not waistline! 🙂
I don't know if this happens to you, but it seems that pants I purchase never fit around the waist correctly. It's like my waist is one size and my thighs are another. I'd like to think my waist is small, but actually think it's the other way around. Big hips, that is. 🙂 Anyway, in a previous life, when I made my own clothes, I could tailor pants to fit correctly. Nowadays I just can't be bothered with sewing garments (I'd rather be quilting!), so I pretty much live in blue jeans. And I have yet to find a pair that fits both waist and hips correctly. And I don't know if you have ever tried to take in that extra fabric around the waist with a belt. Just doesn't work.
So here's my solution… just in case you have the same problem, too. What really matters here is the hip size. And then this is how I adjust – very quickly – to get the waist to fit.
On the inside (facing) of the waistband, I make a small cut (on both sides), as close to the button/buttonhole as possible.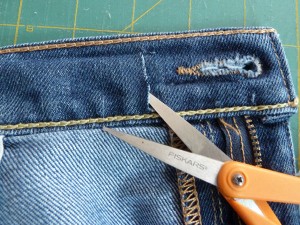 I cut a piece of wide elastic the desired length to fit my waist. (Ok, ok – desired is stretching it… my actual waist size!) And I thread it through the waistband.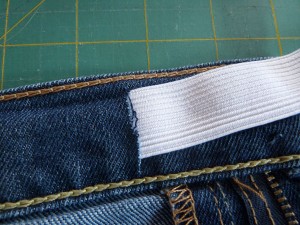 I then zig-zag the ends of the elastic in place. I do two rows of zig-zag stitching, which serves the purpose of both holding the elastic firmly, and covering the holes I cut to insert the elastic.
If you use the right color thread the stitching will hardly be visible on the outside.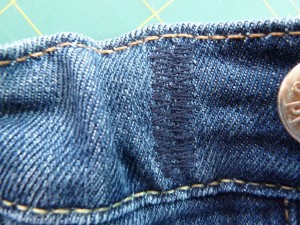 That's my quick solution for the day!