My pal Darlene, aka as SewCalGal, is helping me celebrate the opening of my new online shop by hosting a giveaway!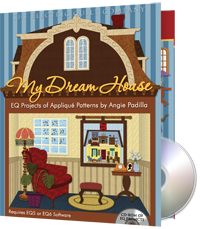 Three lucky winners will each get a copy of the My Dream House CD. This is an add-on library for EQ5, EQ6, or EQ7 quilting software. So you do need to have that software installed on your computer to be able to use this CD. You can read more about the My Dream House library here.
And I'm sure you've figured this out, but the quilt I entered into the Blogger's Quilt Festival last week was what eventually led to this collection of dollhouse patterns. You can read details about the quilt in this post.
Ok, so SewCalGal is giving you tons of chances to win your own copy of the My Dream House CD. To find out how to win, check out her post here. Good luck!