This is a week of birthdays and graduations. And –naturally– I would like my gifts to be handmade.
I already have one gift resolved (that is, if I actually finish it in time!). And I have made my favorite hexie pincushion for one of the gals in my sewing circle.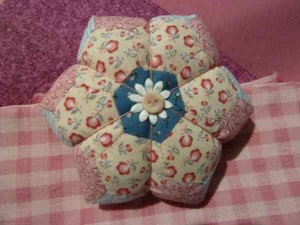 But I would like to add something to it, and I've run out of ideas. We've been together for several years now, so I've already made several other sewing accessories for her. Like a chatelaine and a sewing caddy. So I'm sitting here, racking my brains, trying to figure out something else I could make (rather quickly). Any ideas?
The bigger headache is trying to decide on a gift for one of Jamie's closest friends, who is graduating on Saturday. She has already been the recipient of quilted bags, pencil cases, totes from me, and of jewelry and crocheted scarves from Jamie. She likes things very low key – no big graduation party for her. Just a private dinner party with her family and a few friends. And we know she likes handmade things. But we're stumped for ideas. The only thing I have been able to think of so far is quilted laptop case.
Help? What would you do?