I have seen on quite a few blogs a real focus on free motion quilting this year. If you, too, are looking to improve your FMQ skills, you might be interested in this video from the Interweave Store… available right now on sale (70% off!!!).
Master Machine Quilting: Free-motion Stitching and Thread Sketching, a video download by Susan Brubaker Knapp. Geared toward beginner and intermediate quilters, this is also a good "refresher course" for more advanced quilters. There is a little video preview to give you an idea of what the longer video is like. Normally $14.95, you can purchase the video download right now for $4.48. For that price, what's to lose? (I'm downloading my copy this very minute!). But hurry, the sale ends on Feb. 17.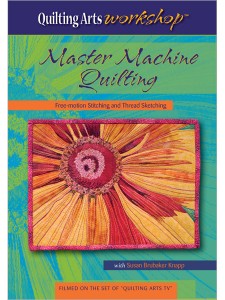 Hope this is useful!