Weeks and months surely fly by, and here we are again, with a new Bloggers' Quilt Festival starting up!
I haven't been able to finish anything "interesting" lately, so thought I would share one of my most involved paper piecing projects. As it turns out, it was also my last PP endeavor… for some strange reason I took a dislike to this technique (maybe an overdose of PPing?) and have not returned to it since.
I designed this table topper initially way back in 2006, as part of the Christmas patterns offered that year on our website. It was on my "to-do" list for quite a while, and I didn't get around to piecing it until 2008. I had cut out the pieces and had pretty much committed to finishing it, but by then paper piecing just didn't do it for me. And it took me pretty much that whole year to work on it, off and on. I finally finished it, and then faced the conundrum of how to quilt it.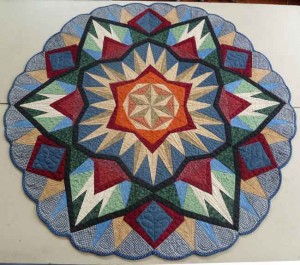 After much indecision I finally decided to stitch-in-the-ditch with monofilament thread. And although it was looking pretty good, but I did realize at that point that it was going to need more dense quilting. It is a table topper, after all, and I wanted to make sure anything set on it wouldn't topple over. So I decided to add more machine quilting with decorative threads, and have to say that was definitely the most fun part of the process!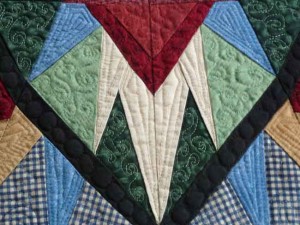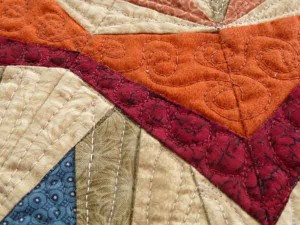 It doesn't look like I'll take up paper piecing any time soon, but I am glad I did finally finish this piece… because I really, really love it! 🙂