Summer is right around the corner! And I don't know about you, but this year is really zipping by too quickly for me!
Quite unfortunately, blogging is still on the back burner. My days are packed with work, between preparing and teaching new classes, and trying to keep on top of my goals and commitments this year in terms of new designs.
I was able to move up the date of one particular design. Yipee! Normally we make the full pattern for our BOMs available by mid-year. That means normally in July or August at the latest. Now I myself rarely participate in a BOM project, be it one of my own or some other designer's. But this year I decided to work on our Itching to be Stitching BOM. Originally I planned on just following along with everybody else… but I tried that once before (with our Heavenly Angels BOM, which I STILL haven't finished!), and could tell I would probably end up falling behind. So last week I just set my mind to finish this project, and used every spare minute to finish sewing the blocks and quilting the top. And I finished!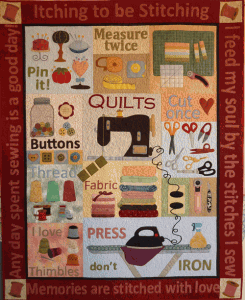 So happy it's done! And the full pattern is now available through our online shop… just in case you want to get ahead, too! 🙂