Over the last couple of months I've been getting quite a bit of mail from quilters who are moving to or considering moving to Ecuador. With all this tiny country has to offer, it's not surprising that so many people are choosing to retire here. As you can imagine, the reason why these quilters have contacted me is because they quite obviously plan on continuing with their quilting once settled here, and want to know what materials they will be able to find locally. Instead of answering individual e-mails, I decided it would be best to write a post about it that I could refer them to. So here goes…!
Ecuador does not have a quilting tradition, so it isn't easy to find 100% cotton fabrics and quilting supplies. As far as I know, there is only one shop in Guayaquil (the main port and largest city in the country) that carries cotton fabrics and perhaps a few supplies. The address:
Av. Juan Tanca Marengo 100, Mall del Sol, Local B25. Phone: 2082569 – 2389616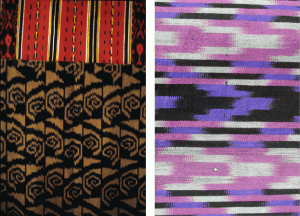 I know there is a large retirement community (foreigners) both in Cuenca and Loja (both in the southern part of the country), and there are quilters among them. As far as I know there are no shops in these locations that would cater to quilters. I know from a couple of them that they have opted for bringing their fabrics from the U.S. Cuenca, however,  is known for it's weaving tradition, and you will find some beautifully woven fabrics there. So if you're into art quilts, this will probably be a treat.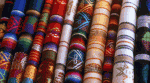 There are many other locations throughout the country where you will find different types of weavings. Probably the best known city is Otavalo, in the north, with its famous Indian market. It isn't necessary to travel there to obtain them however, as they can be easily found in other cities… and indeed throughout the world! As they are handwoven, they are not suitable for traditional quilting, but you might want to consider them for art quilting or mixed media.
I live in Quito, the capital city. And, as far as I know, we have here the one and only quilting shop that sells quilting fabrics and quilting supplies.  By U.S. standards this is a teeny, tiny shop. But by Ecuadorian standards it is large. Although there are larger fabric stores, very few carry as wide a selection of cotton fabrics as this shop  – probably around 400 bolts of quilting fabrics. However, the fabrics at the quilt shop are imported from the U.S., so the prices are higher than what you would find stateside. At this moment they sell quilting fabrics for about U.S. $10.50/yard. Of those, only about 10 bolts are batiks – and no such thing as specialty or novelty fabrics.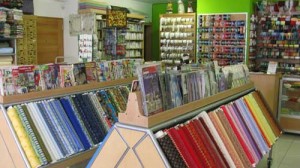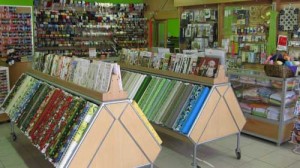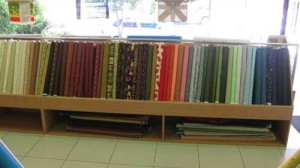 In addition to fabrics, you will find the usual sewing notions and – my favorite – an entire back wall where they carry a lovely assortment of ribbons, embroidery threads and other trimmings, which are sold by the meter… very, very cheaply. Lovely, lovely…
They also carry a modest assortment of yarn. This is also the only shop that carries quilting supplies. Quite unfortunately, because of the import taxes these supplies are quite expensive. Calculate about twice as much as you would be paying in the U.S.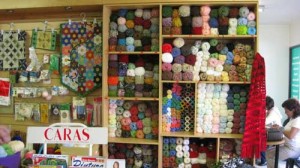 The address: Gafete y Corchete, Moscú s/n, entre República del Salvador y Checoslovaquia, Edificio Salerno P.B. Phone: 225-6228
There are two other shops in Quito (D'Lu and Mil Colores) where you can occasionally find cotton prints brought from Colombia or Brazil, but the selection isn't wide.

There is very little produced locally. None is 100% cotton, but rather a cotton/poly blend.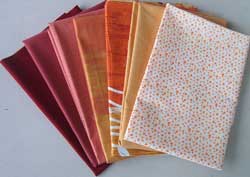 So the question I am asked the most is… do I bring my stash? To which I would respond… YES!
If you are planning to go back and forth a bit and if you are able to, you might consider storing it and bringing it down a little at a time, or having visitors bring it down for you. This is actually one of the ways in which my own stash has grown! 🙂
If you have a nice sewing machine, you will want to bring that down. Your only choices here are simple Singer and Brother sewing machines. Singer will not even import quilting feet. Brother does, but their machines are not as sturdy as Singer sewing machines. So if you do decide to purchase a machine locally, you would do well to at least bring quilting feet with you.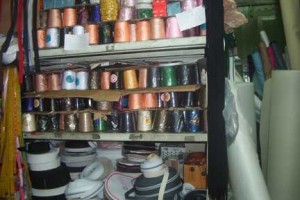 You will find ok threads for general sewing, not so when it comes to specialty threads, particularly for machine sewing. You can find good polyester batting here, but no cotton or wool or bamboo batting at all. But the polyester batting is very cheap (under U.S. $2/ meter)  and I have had absolutely no problems with it, either for machine or hand quilting.
You will want to bring as many quilting supplies with you as possible. You can pretty much estimate that anything you can buy in the U.S. (rulers, thread, basting spray, etc.) will cost at least twice as much here. On small items that's ok, on larger ones not so much.
The other question you might have is about mailing things. You can send up to 4 kilos or a declared FOB (Free on Board) value of $400 through the mail tax free, when the items sent are for personal use. There is a 0.5% tax on the declared CIF value (Cost, Insurance, Fleet). In my experience, this is not charged when the package is small enough to fit in a P.O. Box, because it is then sent to the local post office and that's that. Otherwise it goes to one of the customs post offices where they open up the packages and decide if the items should be furthered taxed. I would say that as long as you stay within the four kilos you should be ok. So you might want to look into how much it would cost for you to mail that.
*******************************************
This has been a lengthy post, but I hope it sheds some light on what to expect as a quilter if you are considering relocating to Ecuador. If you have any questions or comments, please feel free to post them here. Also, if you are a quilter already located in Ecuador and have more information regarding the area in which you are living, it would be great if you could share that information here. Thanks!