Over three weeks ago I started working on several Halloween projects. When I work on any one particular project involving several similar but separate elements, I usually draw and draw and draw, and then select my favorites from all those drawings.
So I was working on a not-so-original idea. Because I already did something similar a couple of years ago, except this time around I was working with a little twist. That initial design has turned out to be our most popular pattern. And another one offered as part of our Christmas series, with the same theme, was also highly successful. I'm talking about owls. Do you remember this pattern?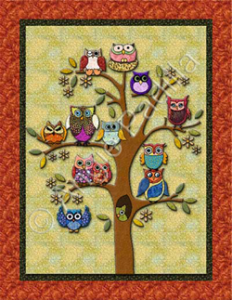 And then I hit a snag. Or rather, I was blindsided. I was warned from several sources that this pattern was being offered as a stitch-along on someone else's blog. Since I don't do a lot of Web browsing and tend to only follow the blogs I have subscribed to in my reader, had it not been for these friends I might have never heard about this. When I visited the blog and saw there were over 950 comments in the post, presumably signing up for the stitch-along, I pretty much dropped my teeth. The blogger admitted to having purchased the pattern, and then stated that sewing alone wasn't as much fun as sewing with others (which I actually agree with), so invited people to sign up and on a certain date she would send out the pattern to them all. No reference to me as the designer, and certainly no mention that she had permission to distribute the pattern. I thought initially this person just didn't know what she was doing, until I wandered into her online store and discovered she was actually selling my pattern there.
So for the past two weeks I have been doing damage control. It's been heartbreaking for me… but it's been taken care of. In the meantime, because of this problem I started to dislike the pattern I was working on. I had drawn dozens of owls, and needed to start putting the design together, and I got stuck. My sweet, sweet Jamie convinced me I needed to finish it and post it for our members, as planned. Now that I've finished the drawing, I have to admit it brings a smile… All I have to do now is finish putting the pattern file and posting it. Hopefully that will happen tomorrow. And this is it: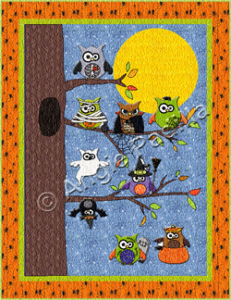 One of our member reminded me about another pattern we offered a couple of years ago to EQ users. I had forgotten all about it, so at her request I'm dusting it off and will be putting it into a pdf file, too. I don't know if I will have time for a third Halloween pattern this year, but think these two are cute. I hope you like them, too!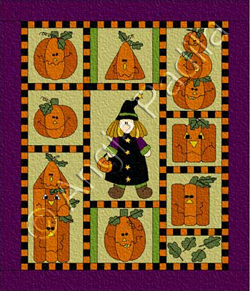 (I'm terribly sorry about the quality of the images. I've resisted this for a long time, but because of what has happened I've finally caved and will now be adding a watermark to my images. So sad.) 🙁