I guess I hadn't mentioned we hospitalized my oldest son two days ago for some kidney-related reconstructive surgery. The hospital he's at is not that far geographically – just a few miles from Quito, down a windy road to the valley of Cumbayá. It is actually a part of our Metropolitan District now. Part of the road down is a three-lane either lane, but as it snakes down the mountainside it narrows to two lanes. And people fly, not drive down the road.
Quito now has a severe traffic problem. The photo below shows our "light" traffic, as we (my daughter and I) were leaving Quito at 7:30 a.m. An hour later this is bumper-to-bumper traffic. So it takes forever to get around.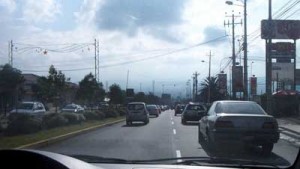 Bus drivers in particular are not concerned with respecting traffic laws. Anywhere in the city (including highways), buses are supposed to stay in the right lane. Not his guy, though.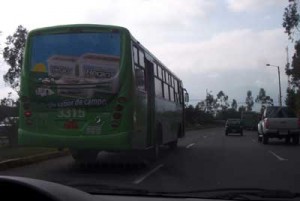 The hospital, on the other hand, is a peaceful oasis. Once inside the grounds you cannot hear the noise from the highway. Quite conducive to recovery, I would think. They also have some beautiful gardens.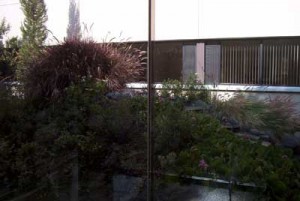 And a tiny, but lovely chapel…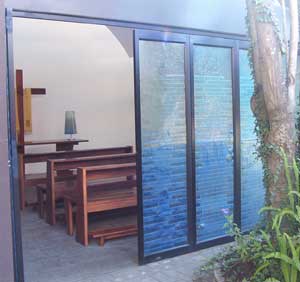 Anyway, I drove up and down to the valley several times today – between checking in on my son and talking to the doctors, then dropping my daughter off at the university, back up the hill to the bank and several errands, pick up my mother to do the grocery shopping, back down to the hospital, then halfway up to pick up my daughter… it's been a long, hot day. On days like this one I wish I had a helicopter.
So good to be home now. I figured I deserved a nice cup of wine. So opened a bottle while I popped some cookies in the oven and made a very simple supper – some lovely leek soup. In between batches I even managed a cool shower!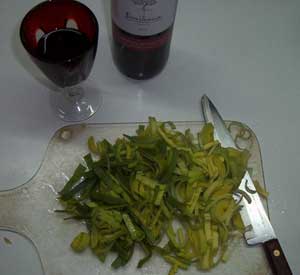 I am now ready for my bowl of soup and still in time to catch the evening news! Oh, yes. The unusual color of the soup comes from a natural food coloring called achiote. It also adds lovely flavor.