As we approach summer it will also soon be time to offer new classes to students who have a little more time on their hands. This year people have been asking for ideas on how to make different bags. So I've been structuring a class with five different "basic bags." The idea is to start from a prototype that each student can adapt to fit her own personal likes or needs. Such as make it larger or smaller, with as many or as few pockets as desired, etc.
Since the The Ultimate "Anything" Case is definitely my favorite one, I am including it in this class. Naturally, this involved having to sew up a few samples to show different alternatives. These are all made from scraps and/or orphan blocks: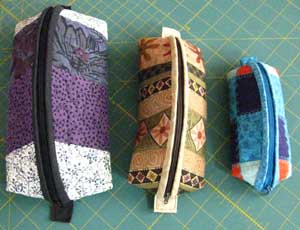 While I was at it I thought this case would certainly make a nice gift for my Mom, who would be traveling this month. You know how it is… sometimes you have all these little things you don't know quite how to pack. So I made her four cases in different sizes, so they nestle into each other to save space while unused. I am happy to say she was delighted with them!
One thing leads to another… I told myself this was a perfect gift to send a few loved ones my mother will be visiting… They are just so easy to make and seem to me to get cuter and cuter! These were made with some of my fabric collage.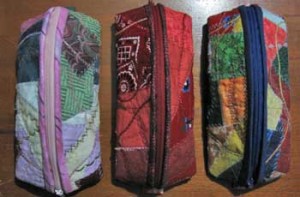 Here's another of the bags I will be teaching. Another very, very easy idea, which allows you to make it in any size you like. And make it in under an hour. I need to make a couple more samples and finish the instruction sheet for this one. Yeah, yeah… I will share it once it is ready!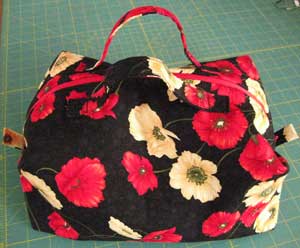 And, since the most important person my mom will be seeing (and staying with) is my brother, I obviously wanted to make something for him. What to give to the person with impeccable taste who already has everything imaginable. Well, since he loves baskets I decided to make him a couple of coiled ones! From what my mom tells me, it was the right choice. Actually, she's only given him one so far. The second one is part of the gift basket he will be getting from me in a few weeks on his birthday!